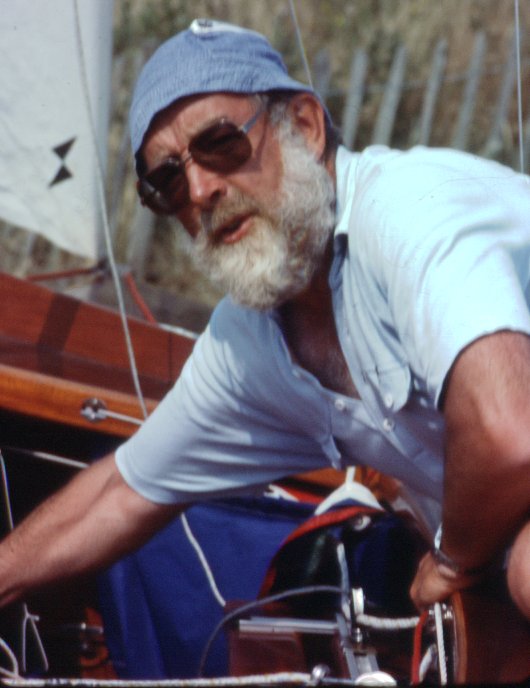 Laurie Leake...
...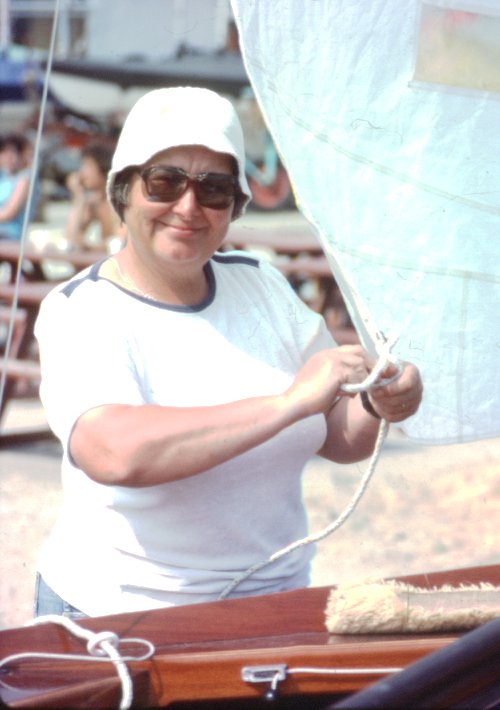 and his wife, Georgie, prepare W7688 for action.
...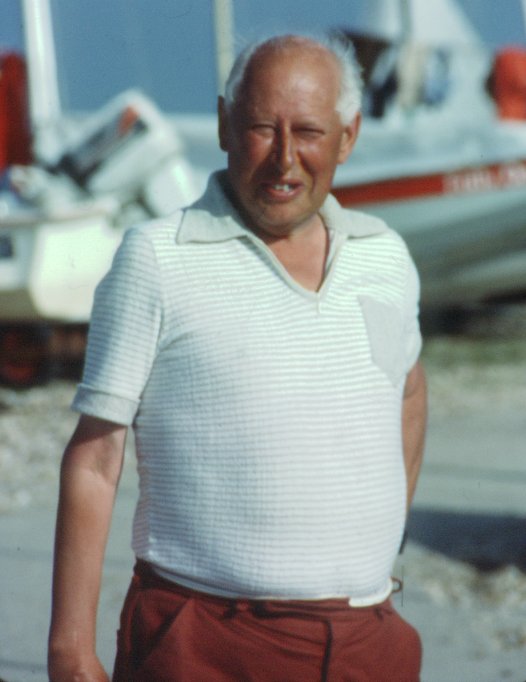 Ian Proctor - the father of the Wayfarer
...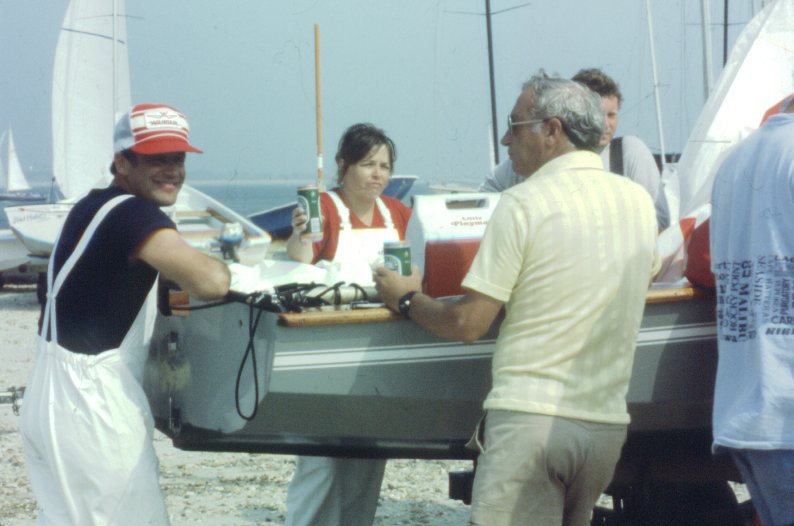 l to r: Nick and Mary Seraphinoff, Graham Dodd and Bill Hewitt
use Nick's W864 - the only US entry - as a bar.
...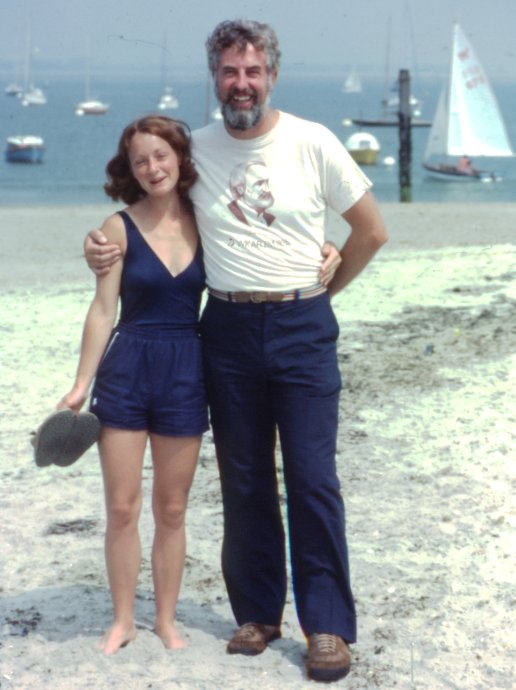 A happy Hayling reunion for Julia Schönborn and Bill Brockbank. The latter is famous as a co-star of Frank Dye's movie, Summer Cruise, which portrays Frank and Bill's 1964 voyage from Scotland to Norway in W48 Wanderer.

We had last seen Bill a couple of years previously when, as Chairman of our one-boat North Americans RC on Lake St. Clair, he was treading water near the leeward mark to inform us of a course change for the final beat.
...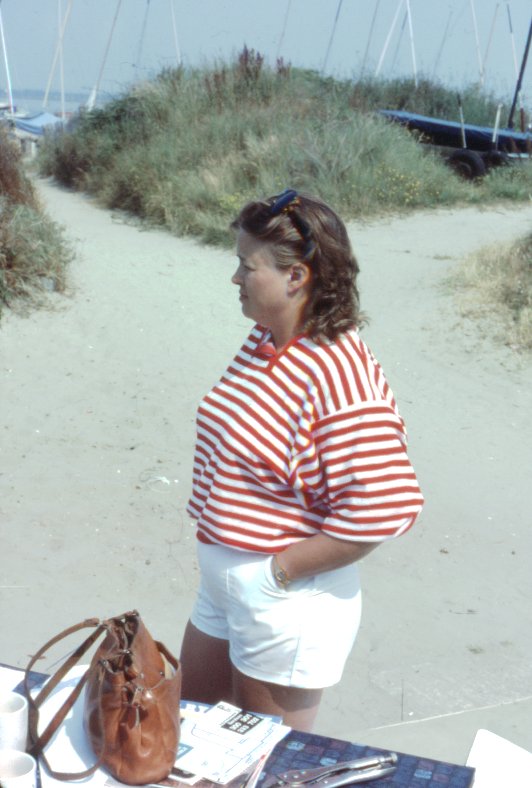 Mary Seraphinoff enjoys a relaxed moment ashore.
...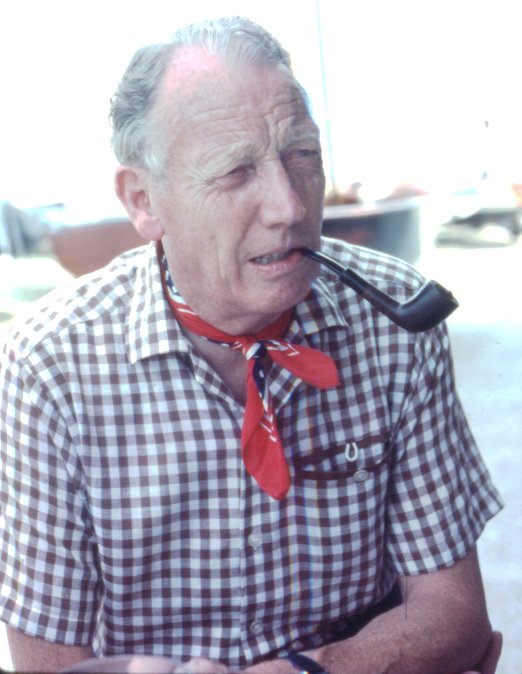 Peter Lord, Vice-Chairman of the UKWA, was always ready to help.
...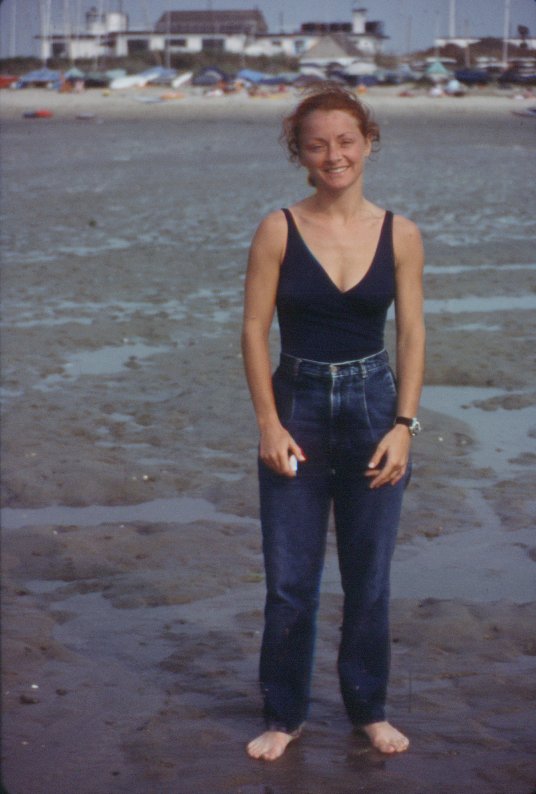 Julia Schönborn explores Chichester Harbour off the Hayling Island SC at low tide.
...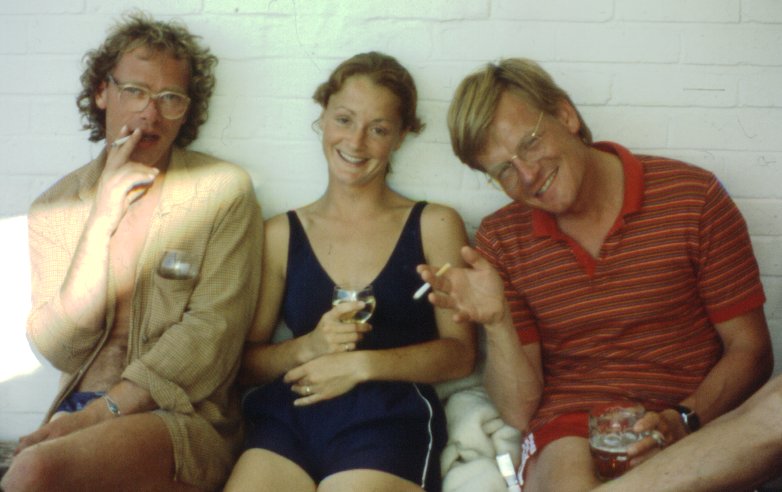 Lechery loves company: l to r: Mons Brunius, Julia S. and Karl Lohr
Note Mons who demonstrates yet another reason to wear a shirt instead of a T-shirt.
...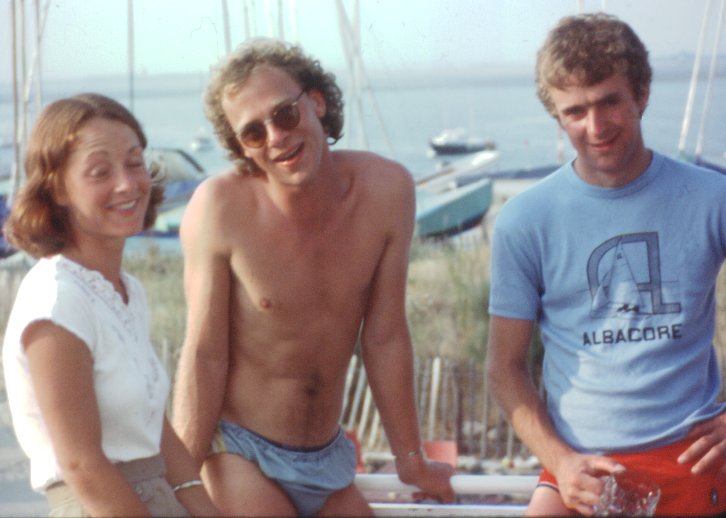 Here we see Julia with Mons and Kevan Gibb who was there for UK Nationals and then went off to race Albacores.
...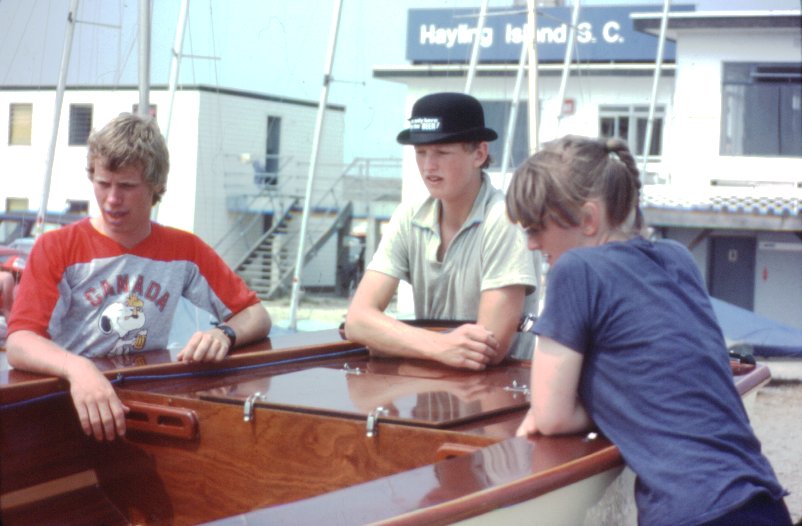 Canadian, Bryan Sims (left) with Neil and Charlotte Wilson.
...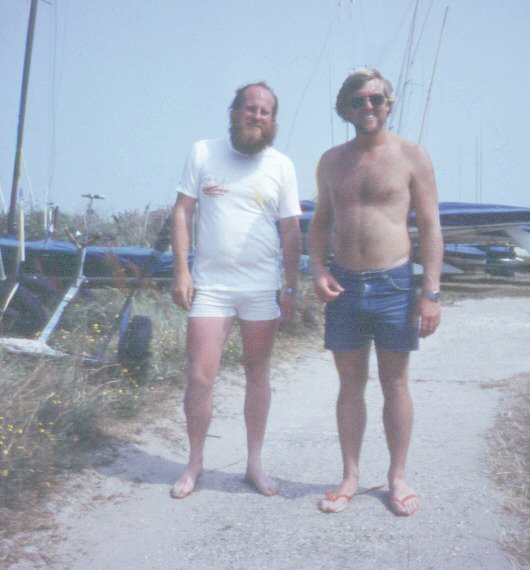 Two bearded wonders: Richard (M)Uttley (left) and Roger Shepherd.
...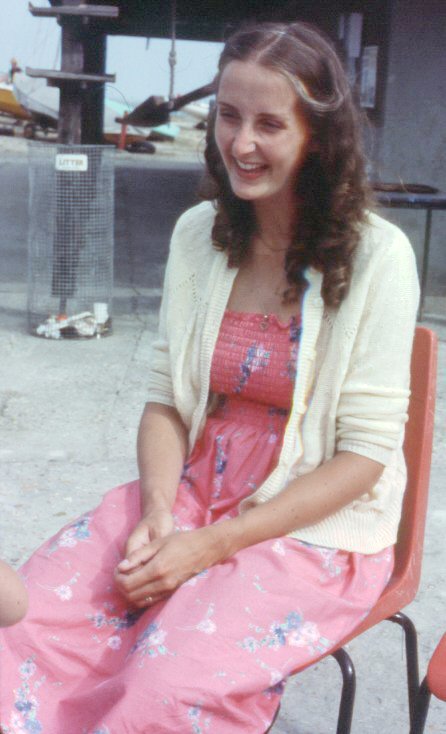 Mike Porter's wife, Annie
...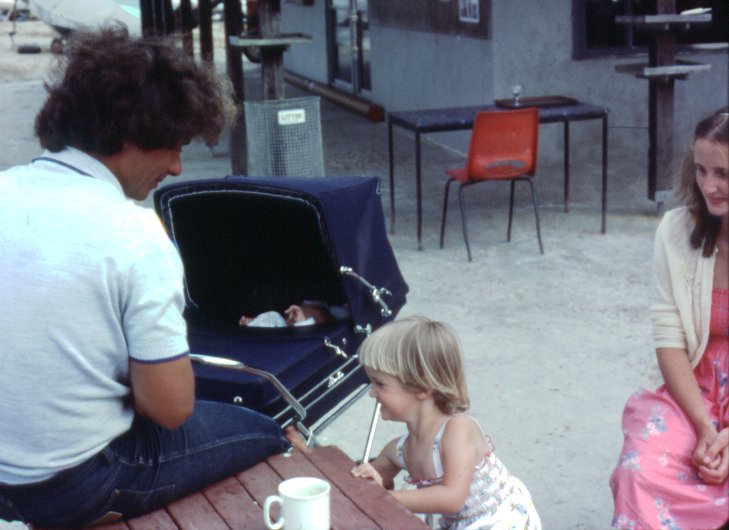 Uncle Ian Porter rocks his niece, Catherine, to sleep while another admirer is jealous.
The other admirer is Alex, the daughter of 1978 World champions, John and Stevie Doerr.
...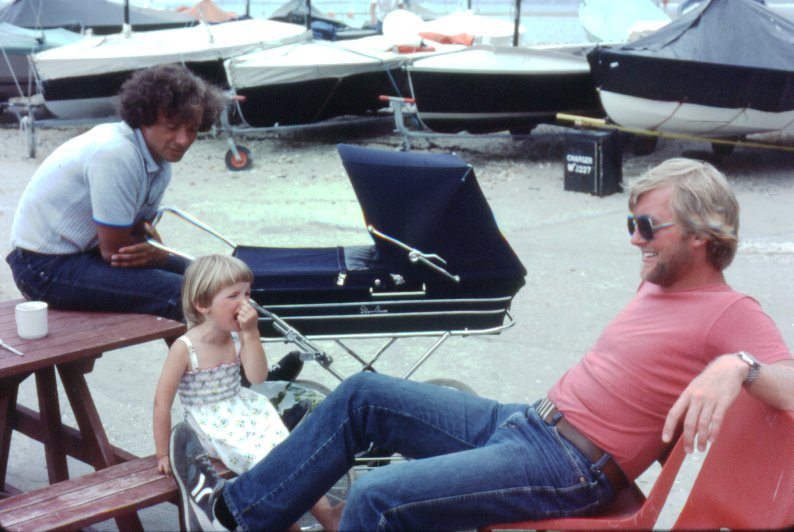 Ian and his niece once more. Do you suppose Miss Doerr smells Roger's feet?