After one cycle of Worlds every two years, it was decided that future Worlds should take place every three years, and Hayling Island was once more chosen as the venue by the UKWA. Due to the hefty costs of getting Hayling, an entry of nearly 50 boats was needed to keep the entry fees reasonable. With the UK Nationals as a lead-in, and Wayfarer 25th Jubilee Race attracting 150 Wayfarers to Chichester Harbour in the middle, the Worlds rounded out two weeks of beautiful weather and sailing. Sunshine and highs in the upper 20ís Celsius were the order of the day in a month of July that was the warmest and sunniest since they started keeping records in the days before Shakespeareís time.
...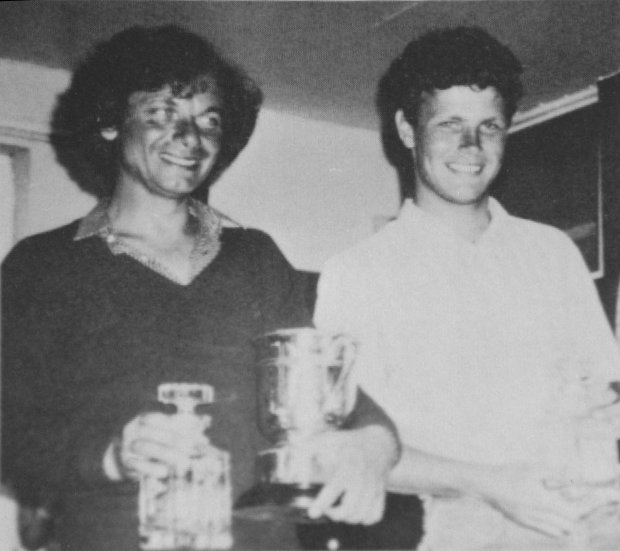 ...
Only race 3 (light winds, dying at the finish) and race 6 (cancelled due to F7 winds) interrupted a week of warm steady F4-5 winds. And those four races belonged to Ian Porter (left in photo above) and Tim Hancock of the host club who pulled horizon jobs in each one despite their medium crew weight. This was the first ever perfect score recorded in a Wayfarer Worlds.
Andrew and Martin Wilson, the sons of our first World champion, Alan Wilson, scored four decisive 2nds but had the misfortune of being up against what was certainly the finest, best prepared crew Wayfarer racing had seen in its 25 years.
Only the Swedes, Karl LÝhr and Mons Brunius (8th) broke a UK monopoly on the top 20+ places. In addition to the Swedes, we had Irish entries for the first time plus one Wayfarer from Tanzania. All the hard work by George Blanchard in getting Wardair to fly the 8 North American Wayfarers and their trailers over to England was not enough as these 8 were sprinkled throughout the 30s and 40s in the final standings. The promised telegram of results to Canada was short and sweet: "Regards, Team Escargot".
As in 1980, the competitors largely lived on site Ė many of us in the "Hayling Hilton" as the annex of tiny cubicles is locally known. This fostered good camaraderie as did the numerous social events that were enjoyed by all. The two weeks were an experience to cherish for a lifetime Ė especially for George Blanchard and Phil Warner who kept intact their perfect record of having sailed every Wayfarer Worlds. (George is expecting to extend his streak to 11 straight Worlds in Ireland at the tender age of 87!)
WONDERS OF THE WORLDS:
The warm sunny weather was not without its drawbacks as many of the Brits who are used to more cloud cover got sunburned, especially their noses. Geoff Hodshon, with lots of nose to protect, developed the unique system of slathering his nose with Nivea cream and then adding further protection in the form of a paper towel shield which he wedged onto his nose under his glasses. But when lighting up for a wind check before one of the races, Geoff discovered to his considerable pain, that Nivea and paper towel are quite flammable.
í83 was a fine year for young ladies in general and waitresses in particular at Hayling. Especially two well-endowed demoiselles from Normandie who made the word topless into a contradiction in terms.
Another thing Iíll never forget was the game where I raced to consume a big cracker and a pint of beer while trying to keep Kevan Gibb from extinguishing my candle. Ah well, you had to be there! Besides, I think itís the only time Iíve ever beaten Kevan Gibb at a sailing event!