So... get out the violins…
Race 1.1: abandoned due to shifting marks in winds to 44 knots or 22 m/sec as the Danes would say. We stayed ashore and started the real race 1 with a mast - unlike half a dozen others…
..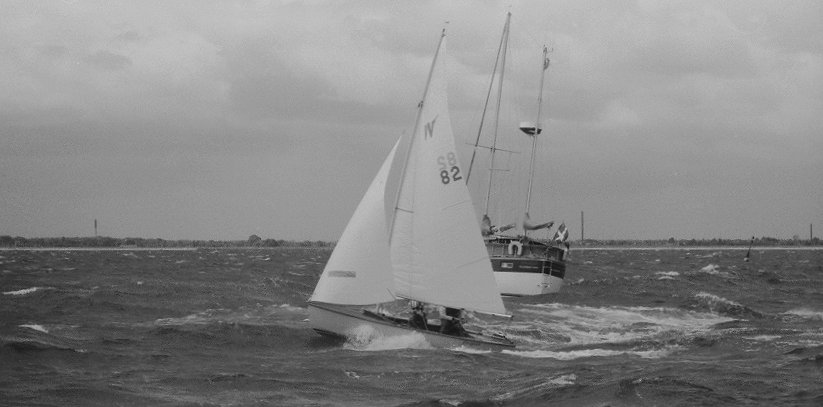 ,,
Race 1.2: 12-24 knots a.k.a. 6-12 m/sec. We made a fine start at the favoured RC Boat end, losing only Lars Blønd who was going full speed at the gun. The starboard side of the course looked good and we were three lengths in front of the next boat so we tacked easily to port. We thought. But our borrowed, mast mounted compass reached out and grabbed the jib sheet, and we found ourselves "hove to" in front of the onrushing fleet. Only one of the starboard boats hit us. After the 720, we were no longer 2nd.
..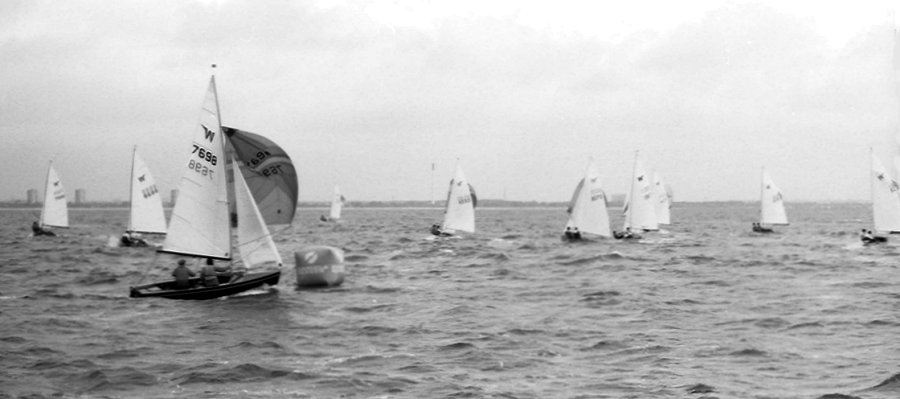 ..
During the spi takedown at the end of the second reach, a chair-sized hole mysteriously appeared in our spi. Shortly thereafter, early in the 2nd beat, the stopper knot in our mainsheet wormed its way through the U-bracket at the end of the boom but mercifully held in the bridle block. Whew! No spi on the run due to the ventilated spi. Lost a few boats but started gaining them back up the final beat. Who says we're out of shape?! So, metres from the finish, our stopper knot goes through the bridle block, briefly greets the two boom blocks but holds firmly in the swivel block on the centreboard box. No trouble spilling wind now!!! With both Tom and me pulling the main in via the vang, we only dropped three boats who had been close behind and managed 23rd. Lucky the sheet didn't go sooner.

Race 2: Cruised back to the harbour during "lunch" to get our other spi and got back in time to watch the fleet make its move to start and got right in among the last of them. Winds now 20+ knots, gusting to 30 in drizzly squalls. Still under 10ºC. Many capsizes and numerous "chicken gybes". Well back in the fleet going onto the first reach. Spi leg so exhilarating ("delight tinged with anxiety" - to see this version of the Beaufort Scale, click here) that we decided to douse before the gybe as the wind really piped up. No problems with the gybe except for the sound of a gunshot - on our boat. Aah, it was only the U-bracket on the slide holding our vang (kicker) to the boom. A lively two-sail reach for most boats but ours had that rakish look with the boom angled up near 45º - useful things, boom vangs! Lost several boats early up beat 2 while "borrowing" the forward mainsheet block slide to re-rig the vang. Tough tacking in 25 knots and waves with mainsheet running diagonally across my nose - almost dragged overboard when my life jacket caught on it in the first attempt. Opted to run sheet through block at vang attachment point - Tom resented this. In top 15 by end of beat 2. Oh, God! Some are flying spis on the looooooong run, in close to 30 knots. Ah well, what the hell! Up she goes. A mile and a half, usually planing, avoiding the wave in front as much as possible. We've skipped "anxiety tinged with fear" and are into rigid terror. With Tom almost in his lap, Al sits on back tank clutching tiller in a most un-nautical death grip with other hand clawed onto the gunwale. Pray to make it to the leeward mark upright when we can start a nice, simple beat into 25 knots. Nearly there now, too tense to needle Tom by asking him if we should gybe. Yahoo! It's down. A quick gybe onto port (a bit late in order to make sure we don't have to gybe twice more to get round the mark!) and we're onto the final beat. Even passed a few boats and ended 12th, less than 100 metres out of 9th. Feels great just to have completed such a race! Gammel Dansk (liqueur) for two on the way in.

Race 3: Our weather at last! A lovely 4-8 knots and cool but sunny. With the start at 10 a.m., we leave the dock at 9:12 a.m. Friendly chatter with Jesper and Poul as well as with the Robson brothers as we cruise out under spi.
9:40 a.m. - into full racing mode as RC Boat still seems rather distant
10:00 a.m. - start, race 3.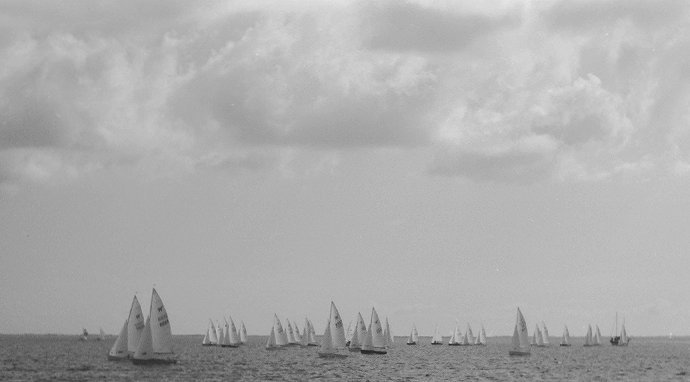 10.01:20 - we cross the line. "Let's make up some ground; it's our wind!" Can't get the main in tight enough - bridle too loose, too little leech tension, too little pointing! In the 30's end of beat 1, high 20's end of beat 2.
Beat 3: tie wind slowly dies and we're passing boats left, right and centre. Wind just ahead on the starboard side under those clouds. The middle and port side of the course? A sheet of glass. Are we too late for the top ten? We're into the wind - 30º knock on port tack - quick flip to starboard. We've overlaid but we have the wind! They've what, Tom???!!! A look to leeward - they all have wind and are laying the line as we reach in to place 26th…
Race 4-1: During lunch on the water, the wind has taken to oscillating through 30º, still moderate at 6-12 knots. Careful observation reveals pattern of oscillations and, at the gun, the oscillation - right on schedule - is favouring the port end of the line. With the return oscillation due any minute, we avoid the leeward end crowd and start beside Poul and Jesper, virtually alone at the RC Boat. Instant flip to port and with a plan to cross the fleet when the oscillation returns to favour starboard tack. Wrong!! New stronger wind comes in from port side, backed a further 20º. Talk about fornicated! In the 40's around mark 1 and never got out of the 20's, I suspect. A stroke of luck for us when no one rounds an oddly placed replacement mark at the end of beat 2 and the race is subsequently abandoned.
,,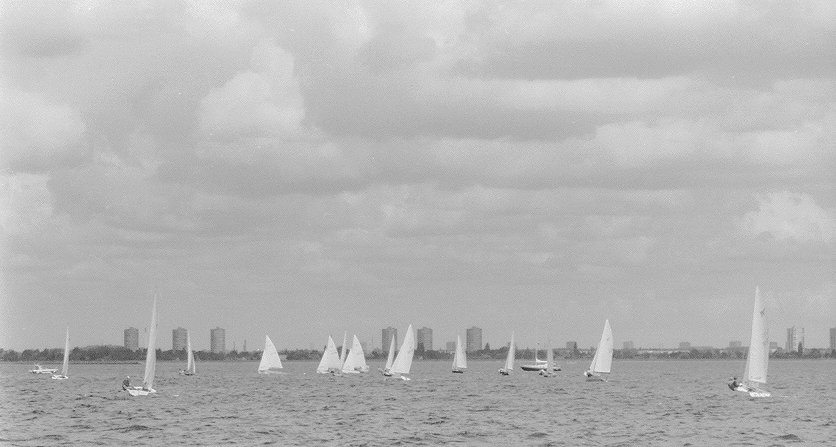 ..
Between races, our leech tension still seems inadequate upwind in the lighter stuff so Al climbs onto the boom, screwdriver in hand, and angles spreaders more forward to inhibit mast bend. Five minutes later, the wind pipes up to 12-15 knots and we're now spilling a bit of wind close-hauled. Spreaders should be readjusted but what the hell…

Race 4-2: Wind now up to 12-20 knots. Good start at RC Boat (with Poul once more) and we take the early port tack along with Poul Ammentorp and Ian Robson. Tom reports that we are gaining rapidly on Poul, unlike in previous "blows". History is made: we are actually at least holding our own against that U.K. master of the breezes, Ian Robson. We've learned something by luck, but it feels great! 6th around the windward mark. As we pop the spi, the strongest gust of the race comes through and we are hard pressed to spill enough air to stay upright. The 1-2 boats, Porter and Harvie have doused. What's good enough for them… We chicken out and douse, losing six of the more intrepid mariners on that reach as the wind abates a bit and veers to a broader reach. By the end of beat 2, we're down around 15th. A good run and final beat, however, see us edge out Mike Webber-Walton for 11th as we finish only a couple of lengths out of 9th! Euphoria! We can compete with the Danes and even most of the Brits while overpowered! Bring on race 5!

Friday: 40+ knots in gusts, and even the "caravans" are heeling! No racing. Below, (l to r) Uncle Al, Martha and Jesper have their eyes glued to the (Danish) weather forecast. Doesn't look good - Tata can't bear to watch!
..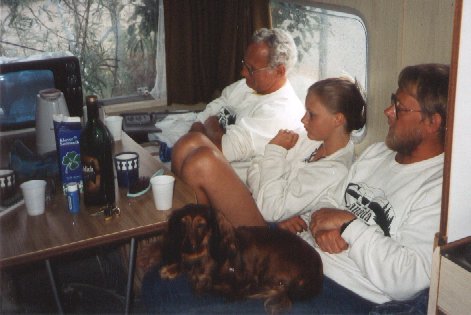 ..
Saturday: 30+ knots in a.m. - expected to decrease slightly in p.m. We head out for a 3 p.m. start with winds still gusting over 30 but we need a race 5 to make Ian's World title acceptable to the IYRU, says the WIC.

Once at the start line, we try the beat. Flogging our sails to death much of the time. What if we wreck Graeme's boat with only a week to go til Aldeburgh Week?!? We chicken out and head in. Near the harbour, the wind seems to have died a bit. No one else is heading in. Should we? My hand twitches on the tiller as I realize that we'll likely lose the "Newsletter Challenge" to Jesper and the Bacardi Trophy to Bryan or Colin… but we will have warm water for showering in the 10ºC weather. So, we continue on into the harbour, and pack up RECOVERY to pass on to George Blanchard and Graham Dodd who will tow her back to Graeme Hinton in England.

The RC pulls out all the stops and gets that vital 5th race in, to make Ian's title official. A bouquet of bricks to the WIC who cost the participants a lot in worn sails and gear by failing to let common sense override slavish adherence to the rules. In a special meeting early on Saturday, they decided that all prizes would be awarded but no World Champion declared if only four races were sailed (as per the letter of the IYRU rules). Never mind the fact that Ian had no need to sail race 5 since he had already clinched the title even with a DNS in any race 5 that might be sailed. Surely the IYRU would have understood that the spirit of their rule had already been fulfilled, and that race 5 which the RC later admitted was run in winds of over their specified maximum of 14 m/sec at times, was not really a must…

Even worse, imagine the insanity that would have prevailed, had the RC decided not to risk a race and possible criticism. Everyone gets their prizes except Ian who has clinched victory for a 5-race series but will not be World Champ since only four races were actually sailed... courtesy of our own WIC. How nice!!
..
..
A million thanks...
to Danish Wayfarer-NYT Editor, Jesper Friis, his wife, Anneli, their son, Christian, and to my puzzle-buddy, Martha, who hosted Tom and me for nearly two weeks and were truly marvellous "buddies"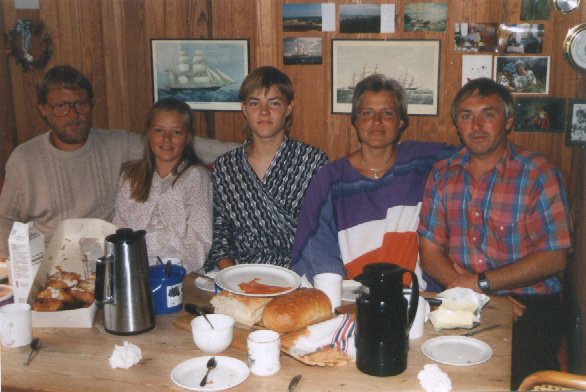 to Anneli who cooked dinner for us most nights while Tom (below) reciprocated with breakfasts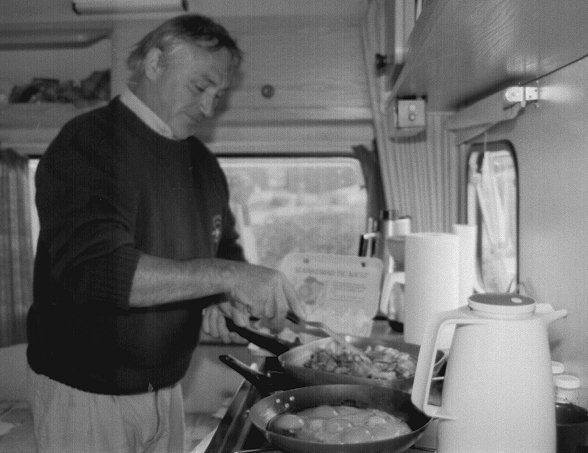 to Jesper who ran himself ragged doing a lion's share of the Worlds work (e.g. bringing borrowed boats to Vallensbæk, arranging space for them and the caravans at VSK, lending out gear to many, etc.)

to Christian who worked on the RC and to Martha who helped with video and still photography while dazzling us with her excellent English
to the 20 or so Danes who took Tom and me out to the Bella Napoli restaurant in Roskilde on Friday night to hear multi-lingual songs from a father-son team of Spanish guitarists (below) and from a most entertaining head waiter who was, appropriately, Italian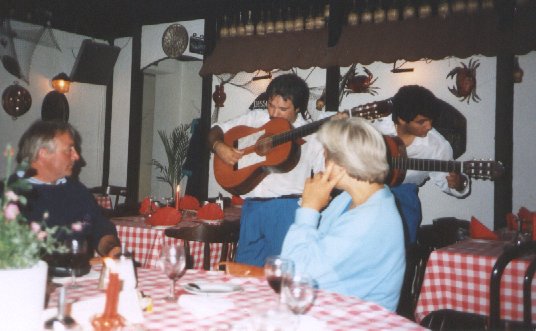 to Jesper Friis once more for introducing us to Gammel Dansk and its fine medicinal qualities!
to Robert Terry for his photography
Unfortunately, the "buddy system" did not extend much beyond the Friis and us although I know that Mike Codd and Darlene Collins as well as Bryan Sims and Sandy Clifford (named the "Elephant Boys" after their omni-present bottles of Carlsberg's super-strength beer) were also very well looked after by Danish friends.
One of the best things about Wayfarer Worlds VII was the musical talent displayed and shared by our hosts. They taught us two great songs adapted and dedicated to the Wayfarer - complete with English translations, while each function had Poul Ammentorp, John and Jesper Friis, Joel Bøgh and other members of the Wayfarer Stompers on hand to entertain us with a variety of fine music or to lead us in sing-songs. Great!
Thanks, finally, to all our Danish friends, both sailors and committee members, who were so helpful!!!