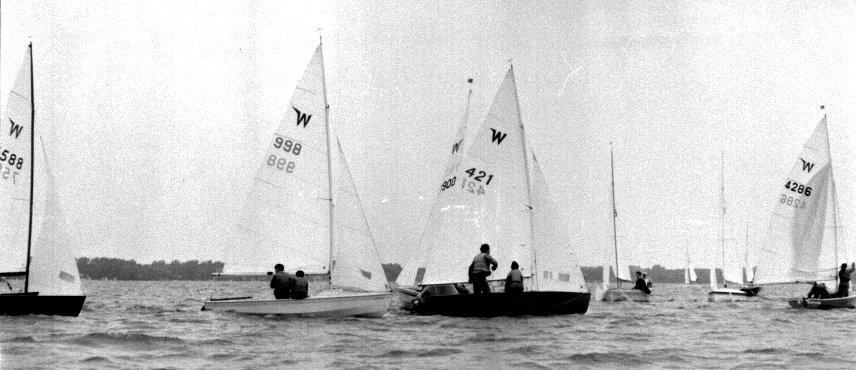 As Robin Barker and June Underwood (4286, Chough) hoist the spi to set off in pursuit of early leaders, Jon Townsend and Tony Perkins, Mike Codd and Patti Douglas (421) are undoubtedly savouring their position ahead of Trevor Newley with Giles Bowman (998, Black Adder aka W6060 borrowed from Tom Gamey) and Ian Porter with Robert Morse in 7588 Scavenger (l). Meanwhile, Graeme and Antony Hinton (7900) are doing the first of several mark re-roundings - a mark which they hit at least three times as I seem to recall. Approaching on port tack are Derwyn Hughes (4615 just off 421's bow) and Julian Redman.
..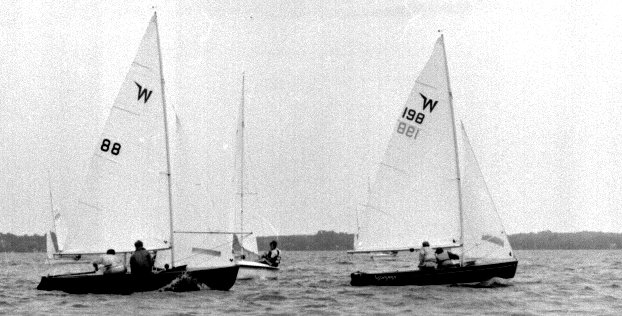 Geoff and Philip Hodshon take Nipegegi around just ahead of Martin Collen and Martin Jr. in
Pieces of Eight as Julian Redman prepares to tack around the windward mark.
..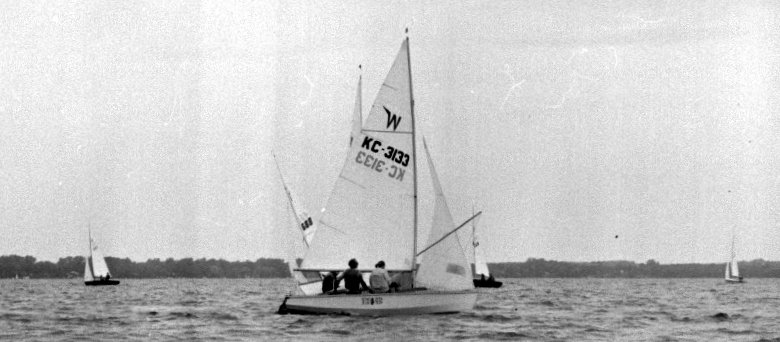 Fred and Chris Webster start their reach in Reflections with Alf Easy and Sandy Clifford (4688)
just visible under the 3133 boom.
..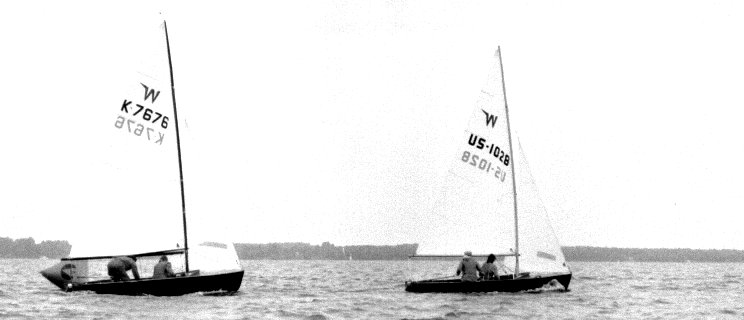 One of the things we North Americans learned at these Worlds was that we were bending our masts more than was necessary - something which cost us in pointing and power. Note the ample bend in the lower portion of W1028's mast (Earl and Pat Schnur) as compared with the K7676 mast (Jimmy and Elaine Clouston).
..

Two reaches later, Tony Perkins (r) starts up the second beat in pursuit of (the invisible)
Jon Townsend. Ian Porter (7588) has made a big move into 3rd, just ahead of
Robin Barker (4286) and Canada's Derwyn Hughes (4615).
..

Uncle Al (l) has typically gone low on a rather broad second reach and has made some gains after a poor first beat. He will likely round not too far astern of Geoff Hodshon (198), Martin Collen (88) and Julian Redman (white spi) but may need to give room to Nick White (82) and Trevor Newley (998).
..

Graeme Hinton (7900) has finally torn himself away from the first mark and sets off up beat #2 just behind Colin and Neil Wilson (1). Note the reaching boats on a virtual run.
..

Close racing throughout the fleet: Here, Tom LeFeuvre and Rob Wylie (7349) lead a pack that includes John Pocock with Ian Brennan (7385), Graham Dodd with Tom Wharton (3651) and John and Dolores de Boer (6090) who are forcing John's dad, Bill (7351) to give room!
..

The run: On a sparkling Lake Couchiching, Jon Townsend (l)
leads Ian Porter, Tony Perkins, Robin Barker and Trevor Rose.
..

Approaching the leeward mark, Jon, Tony and Ian sit 1-2-3.
..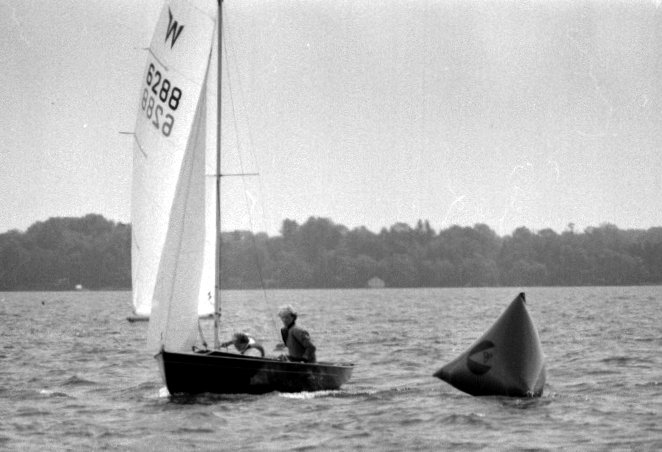 Jon and Mark prepare for the start of the final beat...
...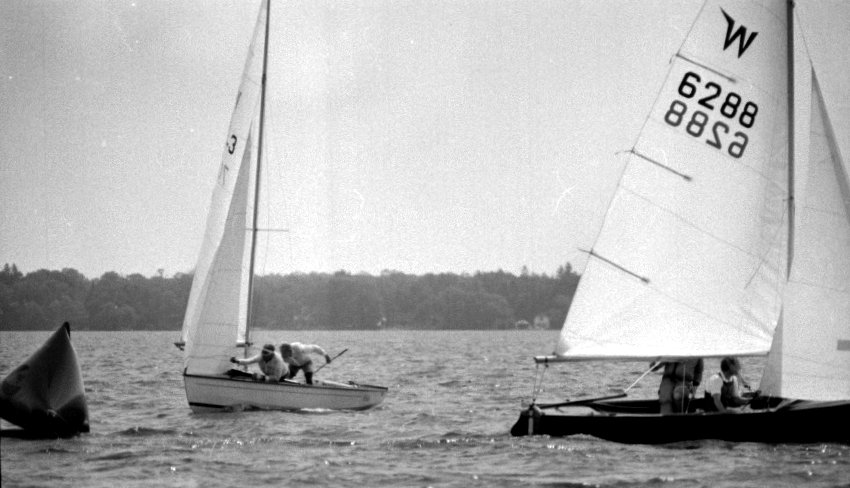 ... with Tony and James close behind.