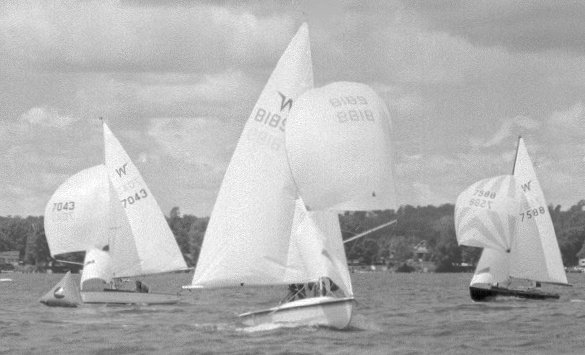 A beautifully executed reach-to-reach gybe for the leaders, Julian and Kevan,
as Tony (7043, 2nd) and Ian (7588, 3rd) prepare for their moment of truth.
..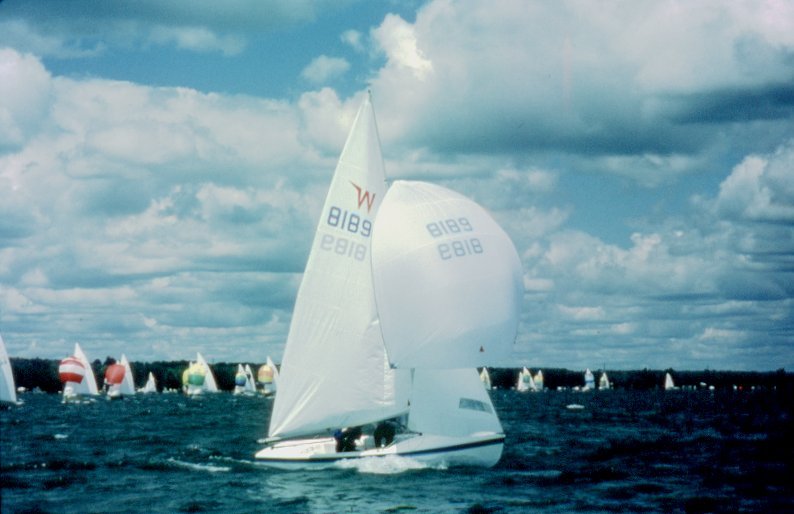 A lovely sight - as another puff hits.
..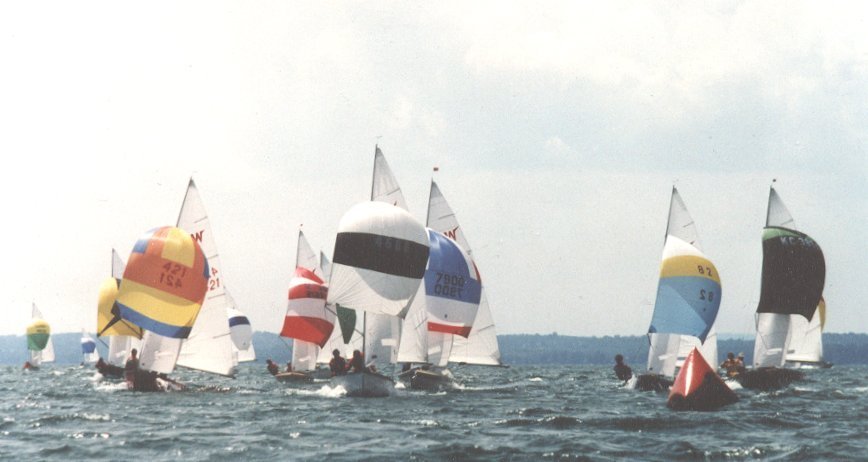 Going low has once more paid off for Uncle Al (green/black spi) who has made
an amazing recovery after rounding the windward mark virtually last.
..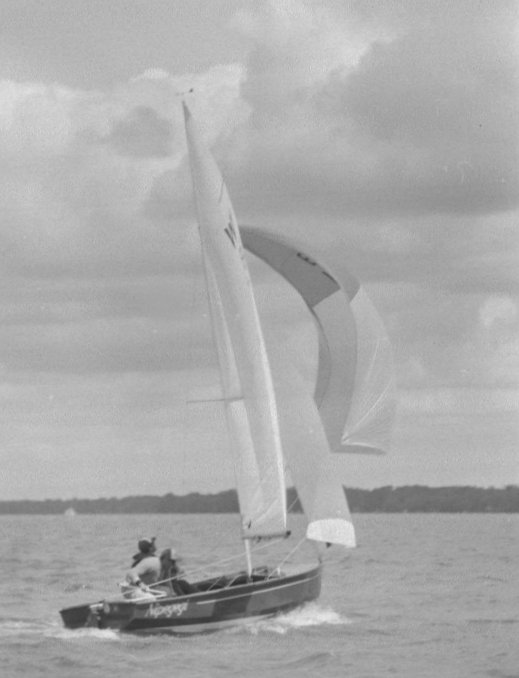 Geoff and Philip Hodshon get everything set for the next puff.
..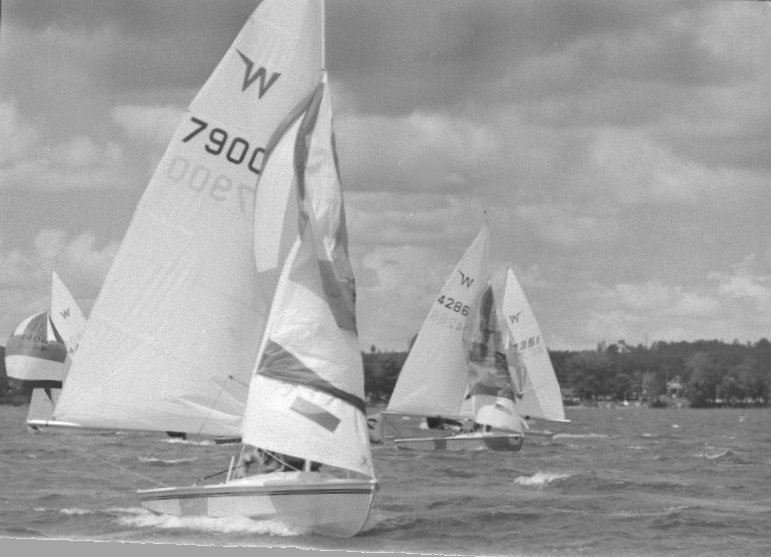 A fine illustration by 7900 of why it is essential to get the spi around to the new leeward side just before the boom comes over. Meanwhile Robin and June (4286) have both main and jib well trimmed and June can now devote her energies to getting the spi going on the new gybe. This was a Don Gallagher's (4406) best race (easily in the top 10) until he (presumably) capsized. On their way to an excellent 10th in 7351 are Bill de Boer and Roger Shepherd.
..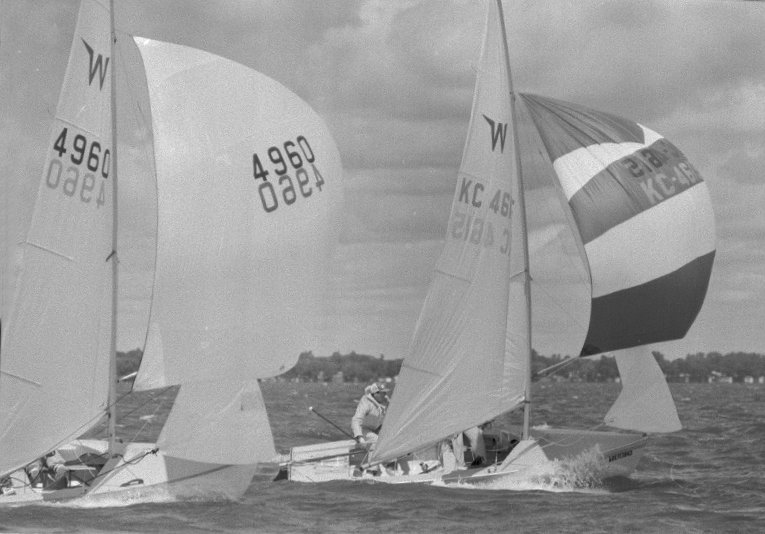 This is what it's all about! Just after the gybe is completed, Derwyn Hughes (4615) and Richard Stone (4960) get set to plane away in a glorious puff. The key here will be to bear away fast before the heel creates more weather helm than the rudder can handle! With the mains already full out, quick bearing away will be the only option short of letting the spi collapse (which would be slow, and rough on the spi!)
..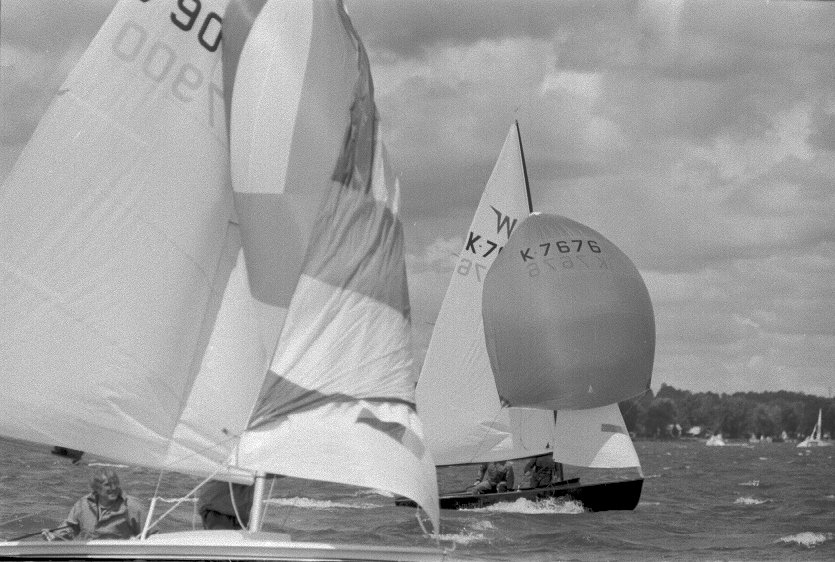 As Jimmy and Elaine Clouston (7676) zip on past in flawless form, Graeme Hinton appears less than amused at this entirely new way of heaving to!! Of course, Graeme could make life a lot easier for his crew. He should take the pressure off the spi by briefly bearing away to a very broad reach and pulling in on the spi sheet!
..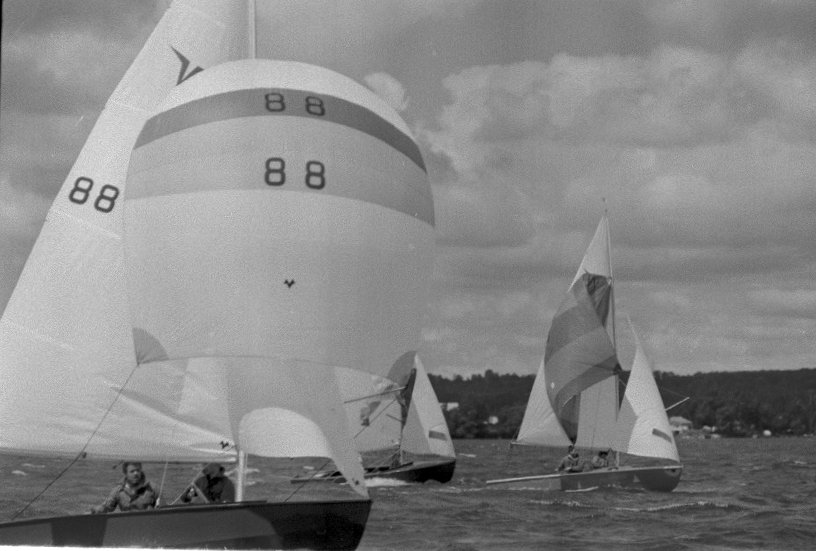 Has anyone seen a nicer, smoother looking chute than 88's??!!
Meanwhile, Robin and June are having a very uncharacteristic tough time with their chute.
..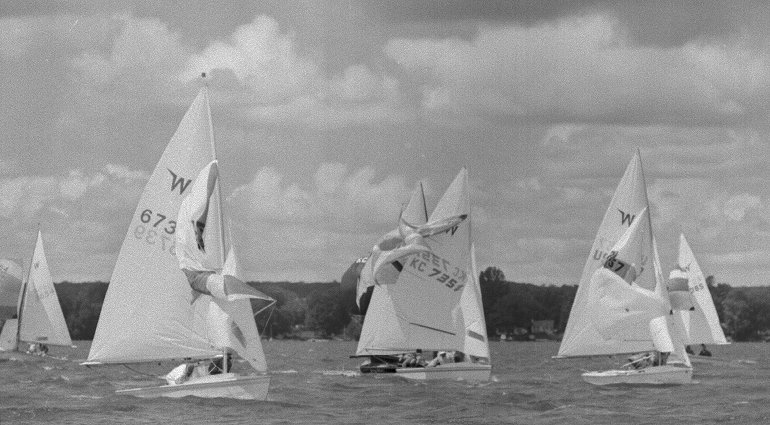 (l to r) Brian Love (3654) get set to gybe as Bill Fyfe's spi (6739) has taken an interesting twist. Unidentified KC spi behind John Hammond (black hull) and Bill de Boer (7351) both of whom have certainly ensured that their spis have been pulled amply to the new leeward side. Joe and Janis Schnur (2957) appear almost set to plane away while John Pocock (7385) ponders his upcoming gybe.
..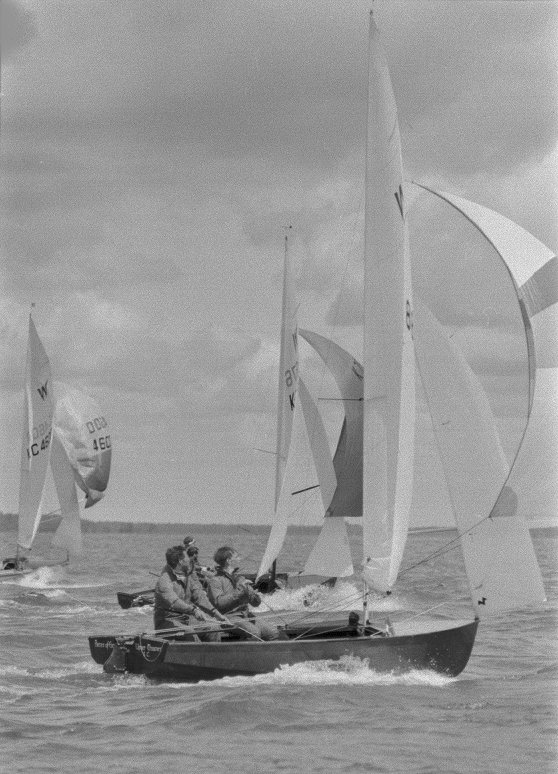 Roger Redwin is all set to sheet in aboard George Blanchard's 4600 while Martin Collen (88) and Jimmy Clouston (7676) are pictures of grace and symmetry as they plane away under their chutes.
..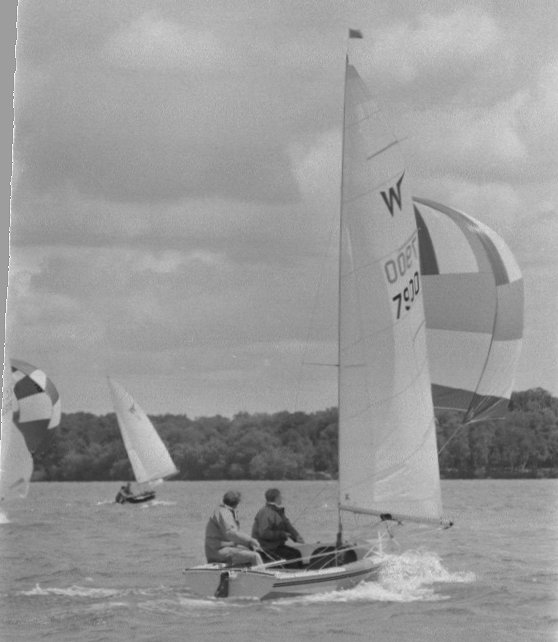 Graeme and Antony Hinton (7900) are a picture of flawless form (at last!) while Derwyn Hughes (far left) also seems to be moving well. Colin Wilson (1) has doused his spi - no doubt for a very good reason.
..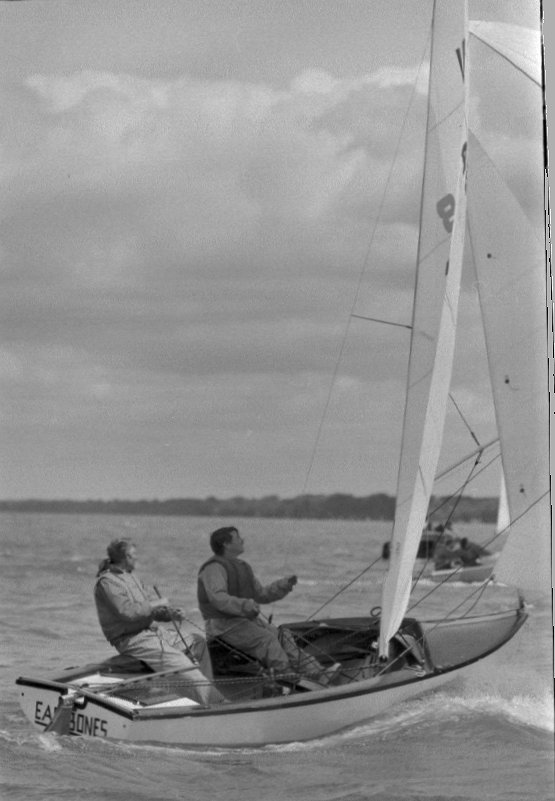 Alf Easy spares a quick glance for some unlucky swimmers while Robin and June demonstrate
the art of sitting very well aft once the Wayfarer reaches these speeds.