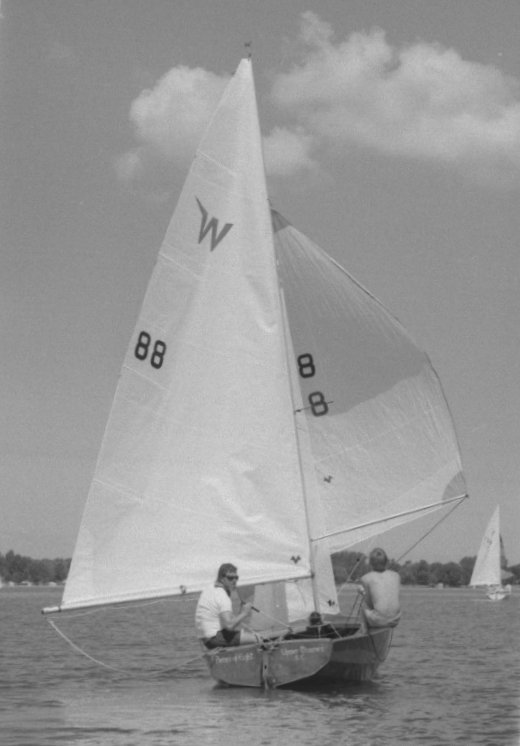 Martin and Martin check out their light-air chute.
..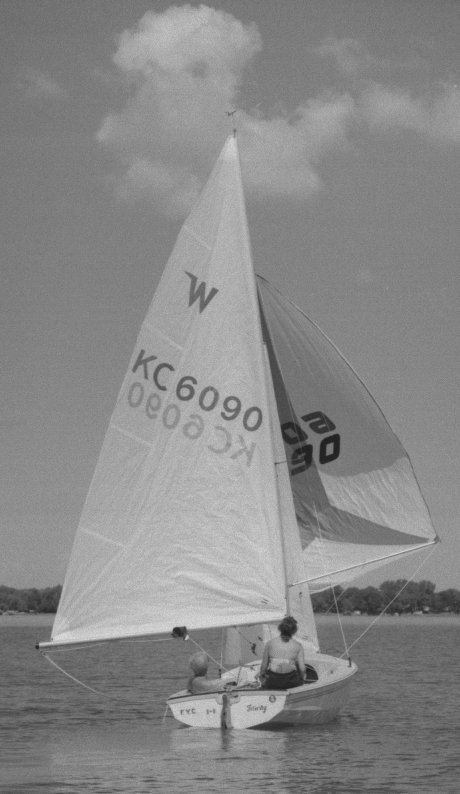 And John and Dolores are also trying a different spinnaker today.
..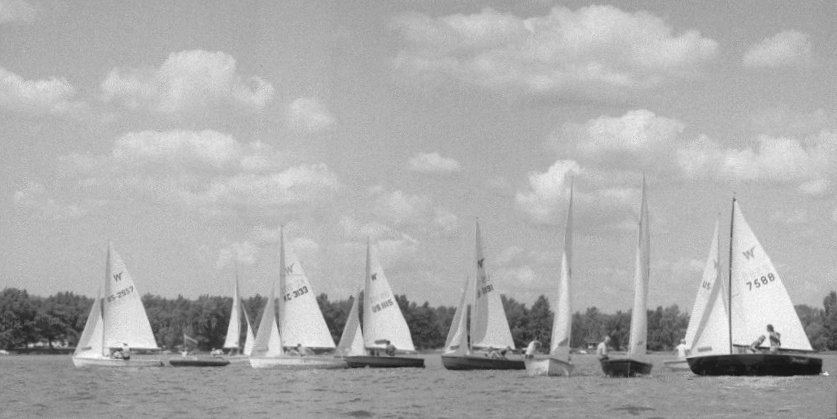 Shortly after the start, the fleet splits with Alf Easy (not seen in this photo) leading a pack going right that included Joe Schnur (2957), Fred Webster (3133), Joe DeBrincat (1115), Hubert Dauch (1191) and Ian Porter (7588) who is just completing a nice roll tack and hoping to cross Jon Townsend and Don Parker?? After a good starboard tack start, Uncle Al (not in this photo) meanwhile leads the pack going left first.
..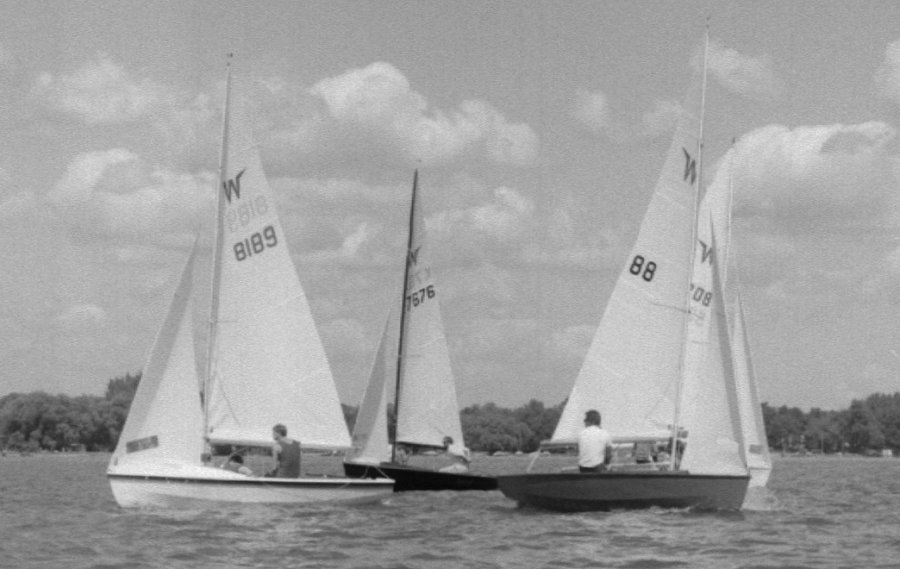 Not off to the best of starts, Julian Redman (8189), Jimmy Clouston (7676), Martin Collen (88) and Keith Davies (5208) struggle in the disturbed air and water left over by 30 W's that have just passed through.
..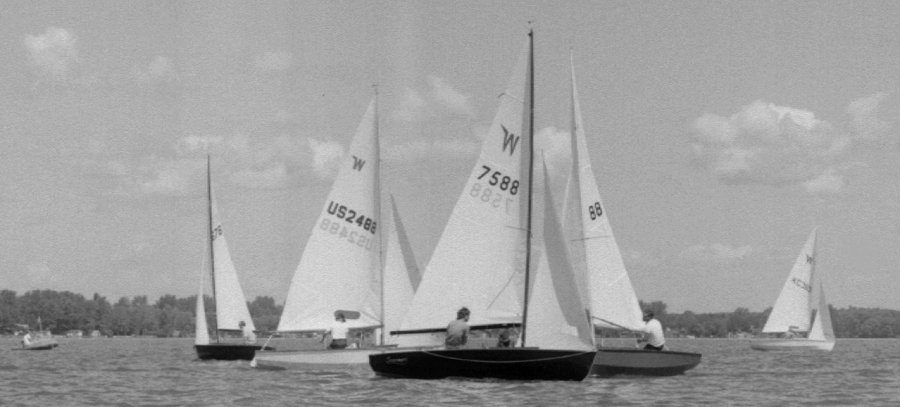 A long hill to climb for both Ian Porter (7588) and Martin Collen (88) as the latter just manages to squeeze across the bow of W2488, Rick and Diane Appel.
..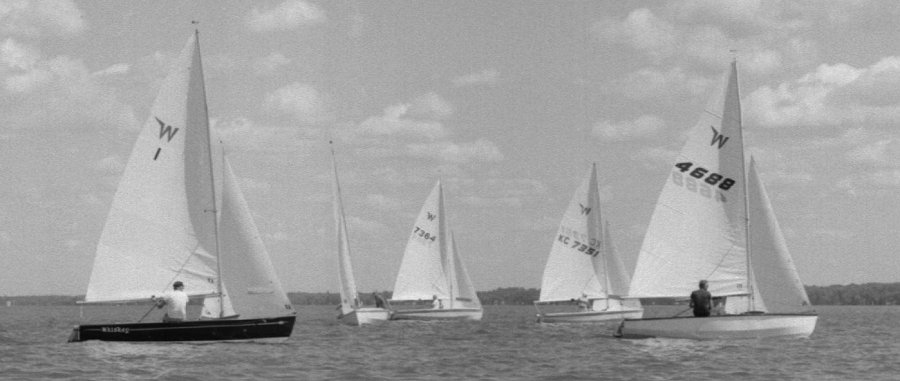 About 2/3 up the first beat, Alf Easy (4688), Colin Wilson (1), Bill de Boer (7351) and
Martin de Boer (7364) are among the leaders coming out of the right side on starboard.
Soon after this, Alf would meet and cross Uncle Al by about one length.
..

Alf then proceeded to the port tack layline all alone and ended up with a big lead over second-place Al who chose a more conservative approach and stayed with the other leaders. That may be Al about to round second on the extreme right side of the photo above.
..

Nice recoveries after suspect starts for Tony Perkins (7043), Julian Redman (8189) and Jon Townsend (6288)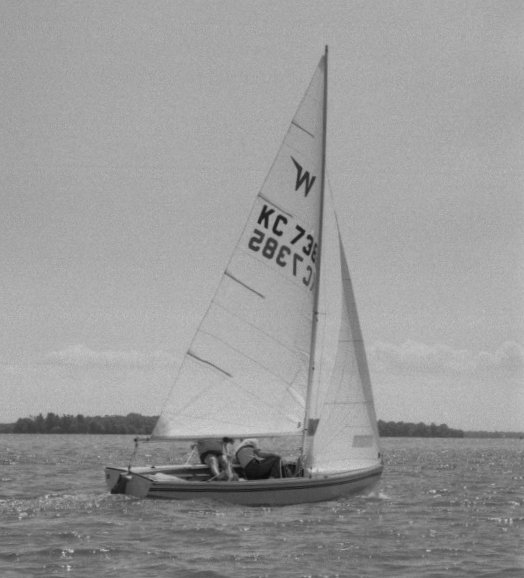 A nice puff for John Pocock and Ian Brennan as they come in from the left side. Fine form, too!
..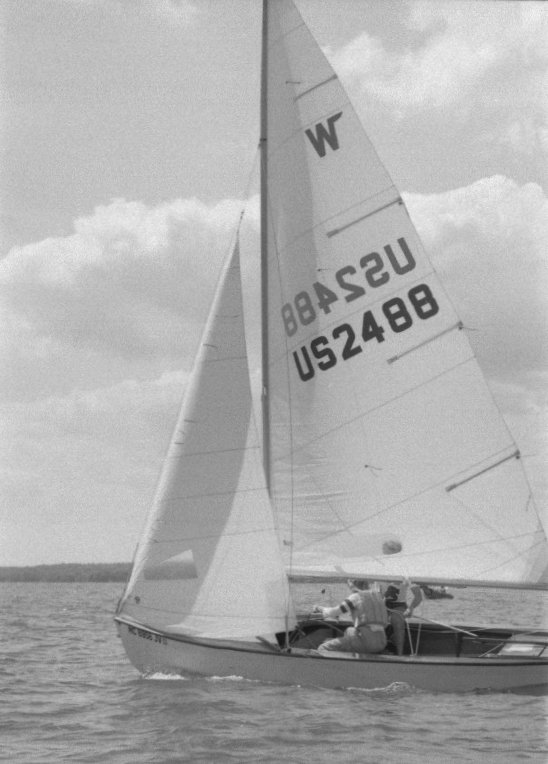 Rick and Diane Appel also scoot along in a nice puff of their own.
..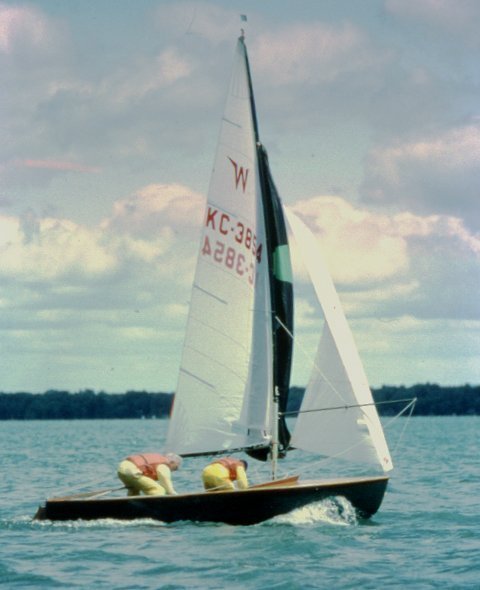 Al rounded 2nd off the first beat - with too much mast bend. In fact, it occurs to me too late, that this photo
has to be from an earlier race in the series since no one wore wet gear or PFD's in race #6!!
..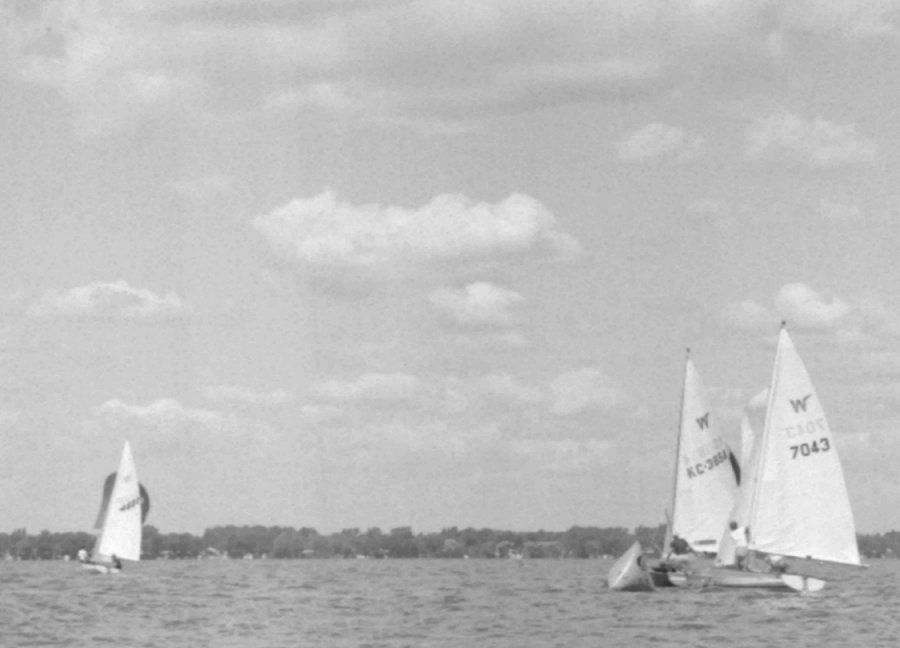 A close reach coming up as Alf Easy continues to enjoy his comfortable lead whereas Uncle Al (3854)
will have his hands full with British light-air ace, Tony Perkins (7043).
..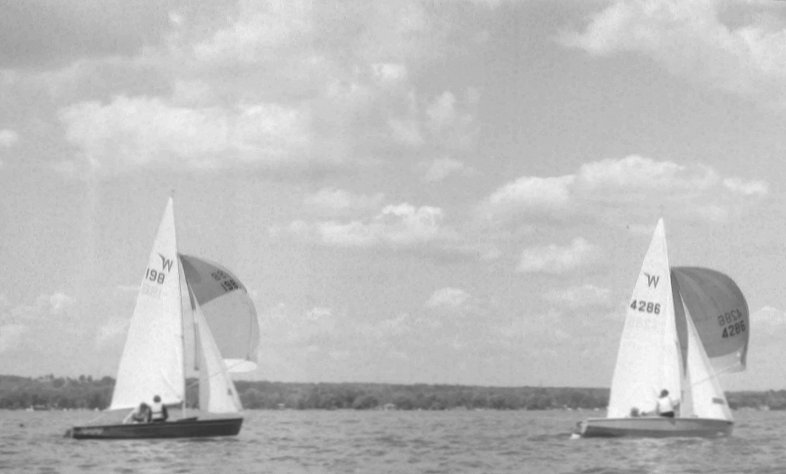 Approaching the gybe in 4th and 5th are Robin Barker and Geoff Hodshon.
..

Graeme Hinton (7900) and Nick White (82) are also right up there.
..

That magician, Geoff Hodshon (198) has somehow managed to sneak by Robin Barker into 4th place.
..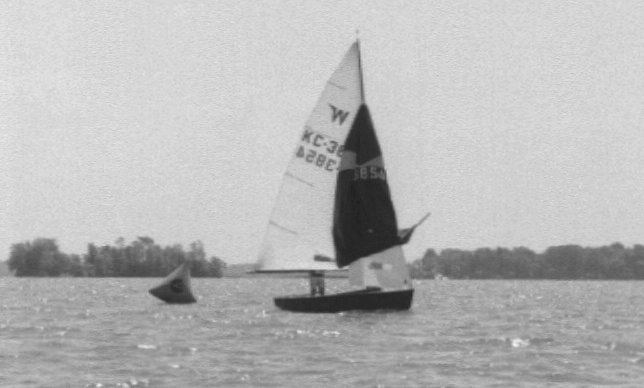 The second trip around the gybe mark sees Uncle Al in 6th place...
..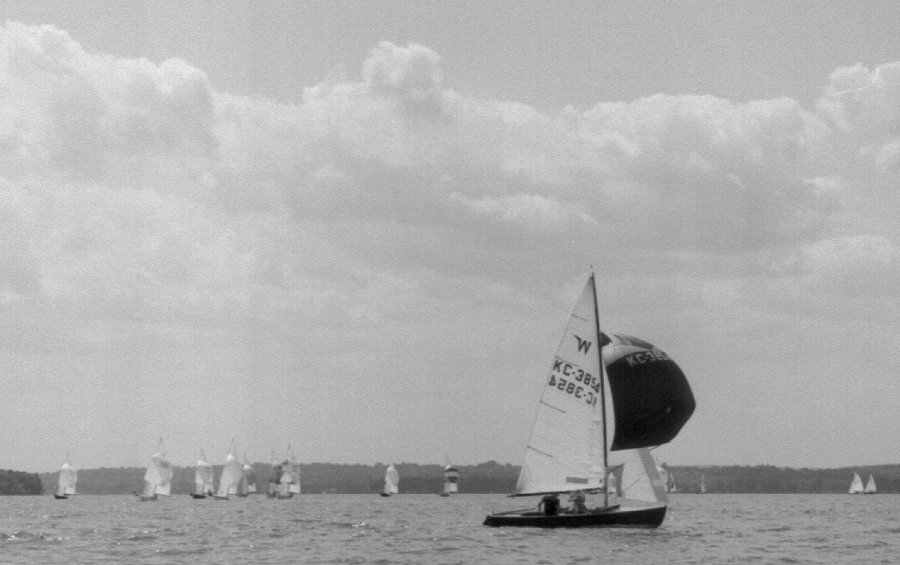 ... having dropped behind Tony, Geoff, Robin and Ian.
..

Still, Al and Julia are hanging on ahead of Richard Stone (7th), Julian Redman (8th), and race 5 winner, Trevor Newley (9th) who is just about to gybe. Sitting 10th and watching his title hopes fading fast is Jon Townsend who is just ahead of Martin Collen, Brian Love and George Blanchard.