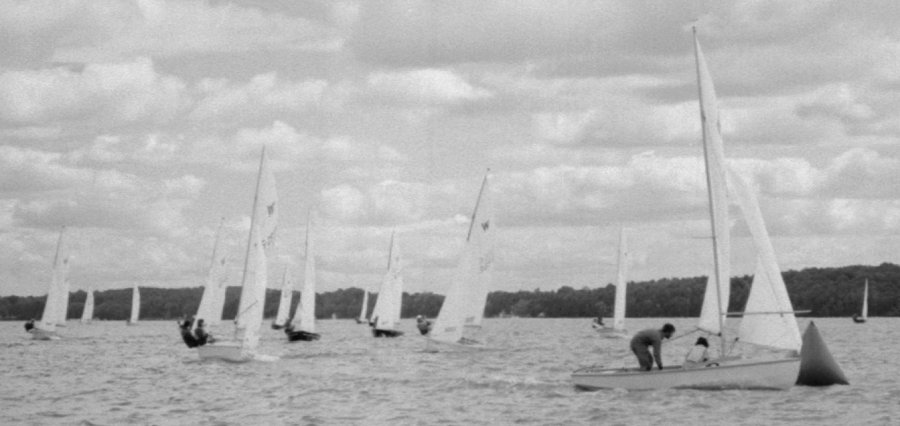 Richard Stone rounds 8th, with Joe and Janis Schnur 9th and...
..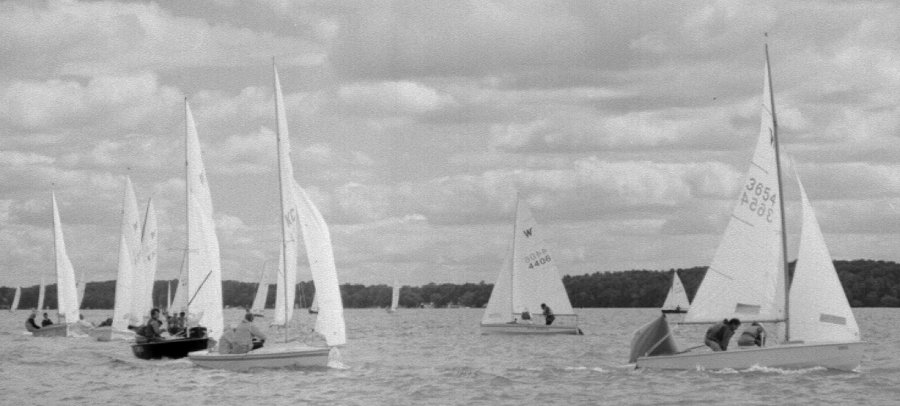 ... Brian and Cathy Love have moved all the way up to 10th!
I think that's Bill deBoer with Roger Shepherd in 11th ahead of Nick White in Enigma.
..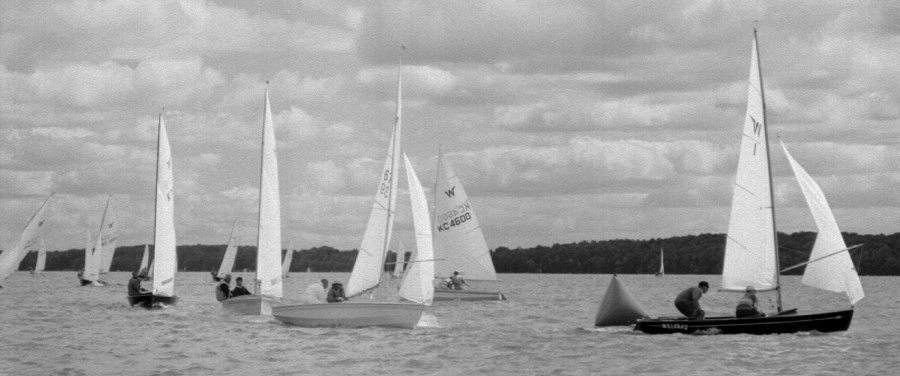 527: Colin Wilson (1) gets around in 13th ahead of Bill Fyfe in 6739 and ??? who in turn will edge out Jimmy Clouston (black hull). I do believe that's Don Gallagher overdoing a roll tack at the extreme right and dear old Uncle Al just to Don's right. The former has overlaid the mark - do as I say, not as I do!! George Blanchard and Roger Redwin are the lone boat coming in on port tack.
..
George prepares to move off down a nerve-wracking, light-air run as ...
..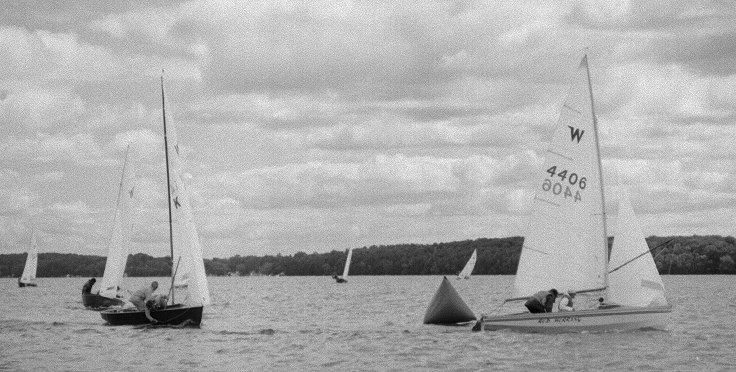 ... Don Gallagher (4406) and Uncle Al (3854) dawdle around behind him. I'd have to say we overlaid the mark with a real vengeance - judging by the main which is out for a broad reach! Embarrassing!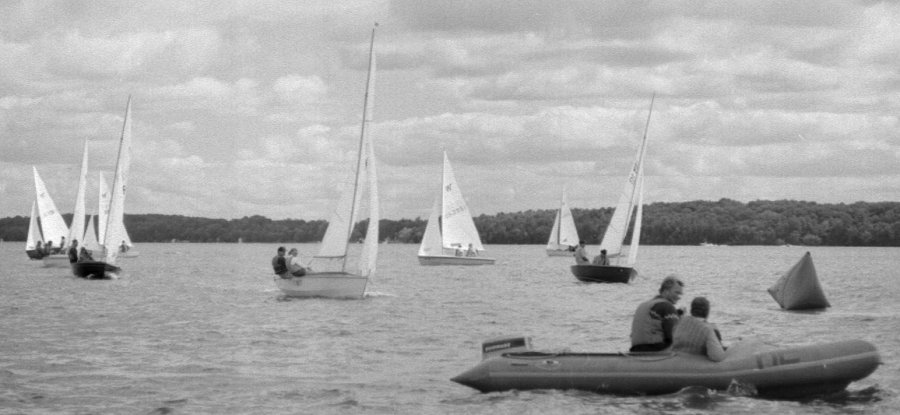 With Mike Milner (the one in the inflatable who looks like a Finn sailor!) taking a rest from his video duties, Fred and Chris Webster in Reflection (white hull) look like they'll make it around ahead of Joe and Jeff DeBrincat.
..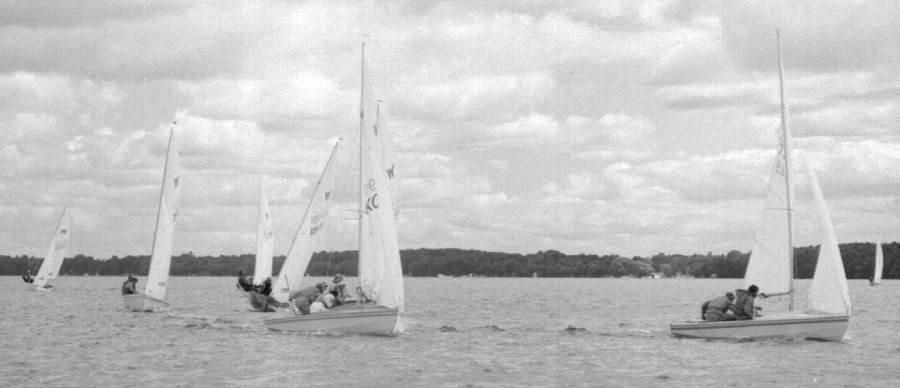 Tom LeFeuvre and Rob Wylie squeeze around in front of John and Dolores deBoer.
...

While the others (Keith Davies in 5208, Fred Webster in 3133, Dominick Principe with Roberta Sand in 3951, and Tom LeFeuvre in 7349) gybe off onto port tack, John and Dolores de Boer (6090) take a worthwhile gamble by doing starboard tack first.
..

Hubert and Phyllis Dauch (US1191), John Pocock with Ian Brennan (KC7385)
and Murray Fawcett in 3587 with Trish Corken, follow the crowd onto port.
..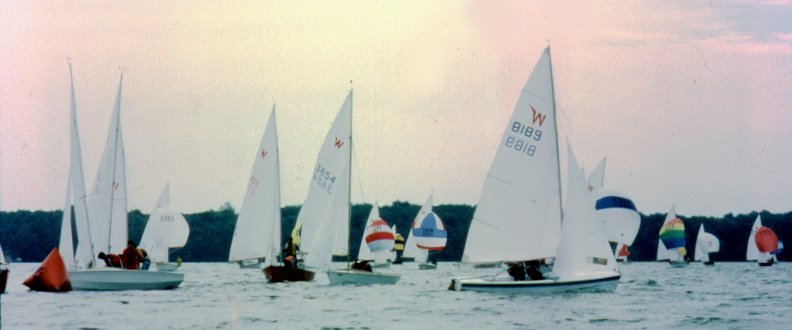 535: This looks like it belongs in this race - somewhere - can anyone enlighten me???
..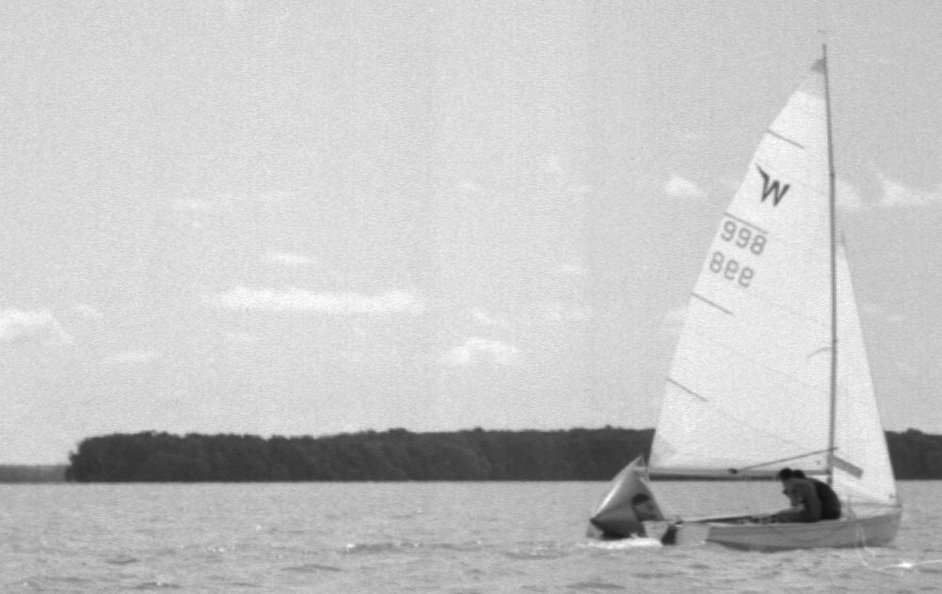 By the end of the race, it's a lonely W998 (Trevor Newley and Giles Bowman) finishes well out in front. Julian and Kevan meanwhile, did what they needed to do: they finished 2nd ahead of Jon Townsend (3rd) and Ian Porter (4th).