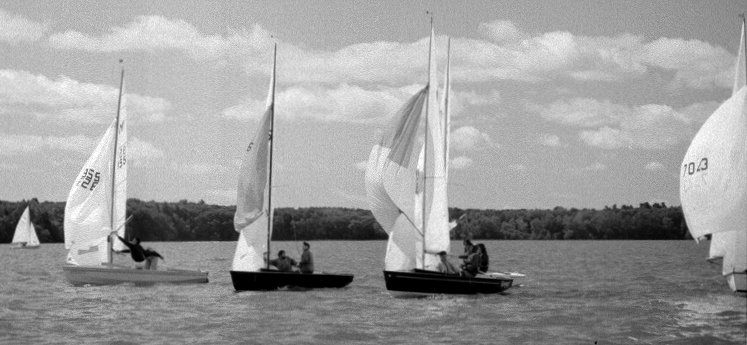 The 2nd reach of the first triangle: I believe these boats were all in the top 10
- note the wind which has nearly died!
..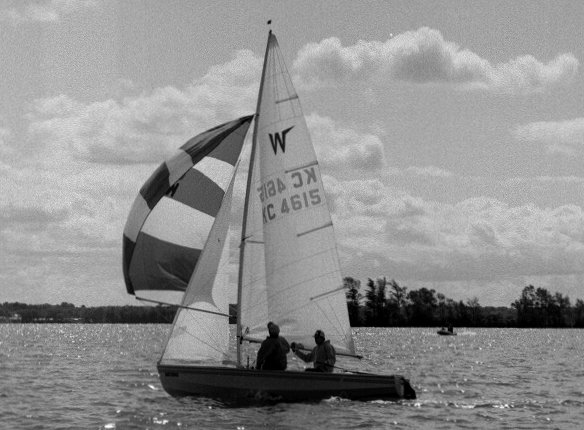 One of the leaders, Derwyn Hughes (4615) has found a little breeze!
..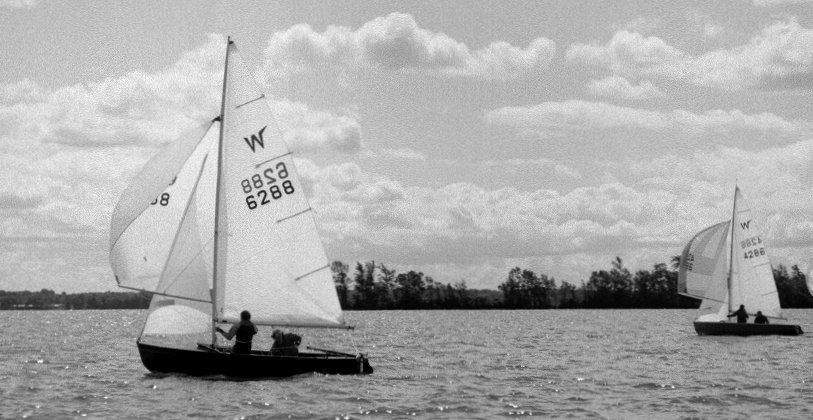 Jon Townsend (6288) has recovered nicely from a poor start and is in the top 5 along with Robin Barker (4286).
..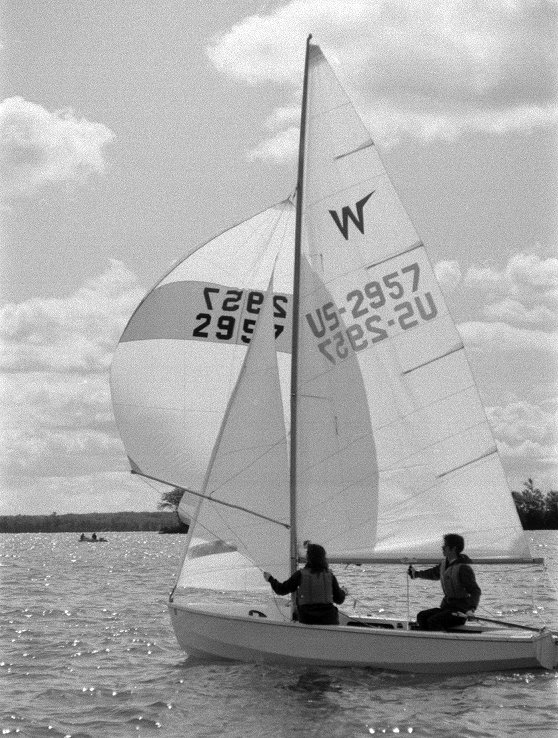 A fine race for Joe and Janis Schnur who are showing form to match.
..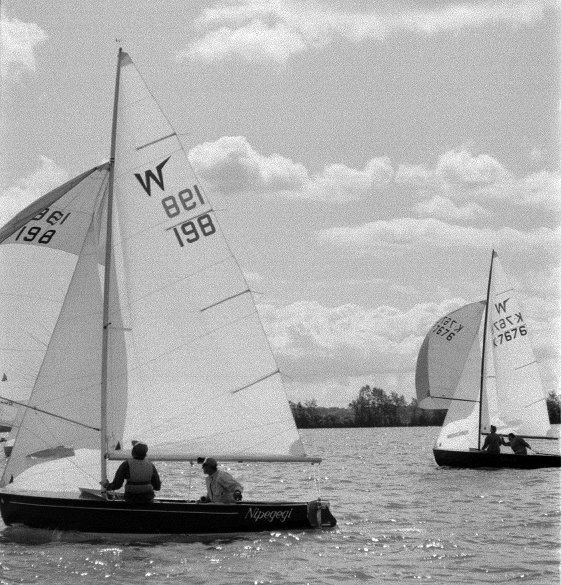 How fortunes can change in those light airs: Here Geoff Hodshon (198) and Jimmy Clouston (7676) are neck-and-neck but by the finish, it was Geoff with a 7th while Jimmy ended up 18th!!
,,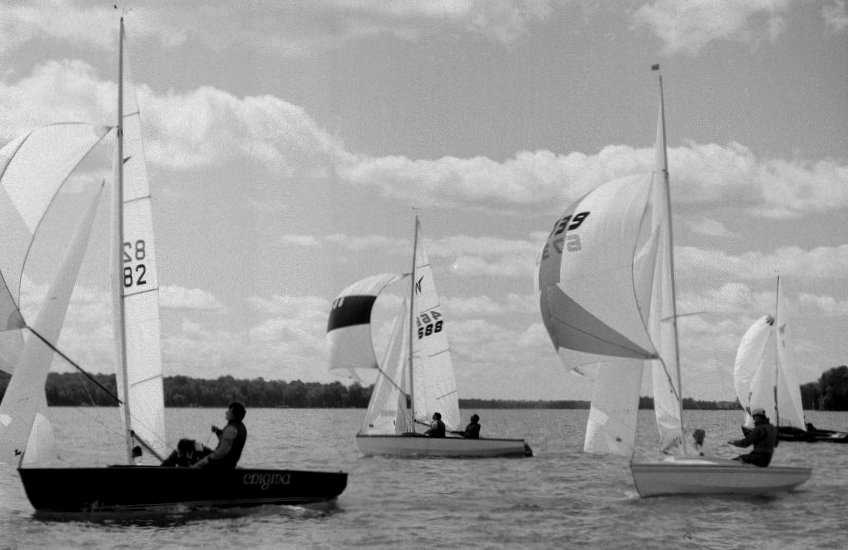 Nick White (82), Alf Easy (4688), Bill Fyfe (6739) and Colin Wilson (1) fighting over 8th place.
Bill, for some reason, ended up DNF!
..

By now the wind has shifted and Don Gallagher (4406), John Hammond (7887)
and Bill de Boer (7351) are all on starboard tack.
..

These boats are currently in the mid-20's: Mike Codd (421), Martin Collen (88),
Graham Dodd (3651) and Dominick Principe (3951). Martin will recover to 14th!
..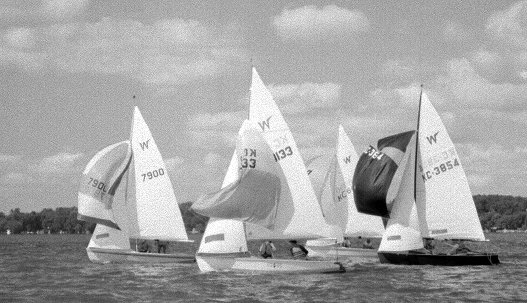 A little further back still, we find Graeme Hinton (7900), Fred Webster (3133),
John de Boer (6090) and Uncle Al (3854) who will, in fact, recover to a 16th.
..
The start of the run. Trevor and Giles have 998 so far out in front they have left the picture,
but Julian and Kevan likely don't care too much...
..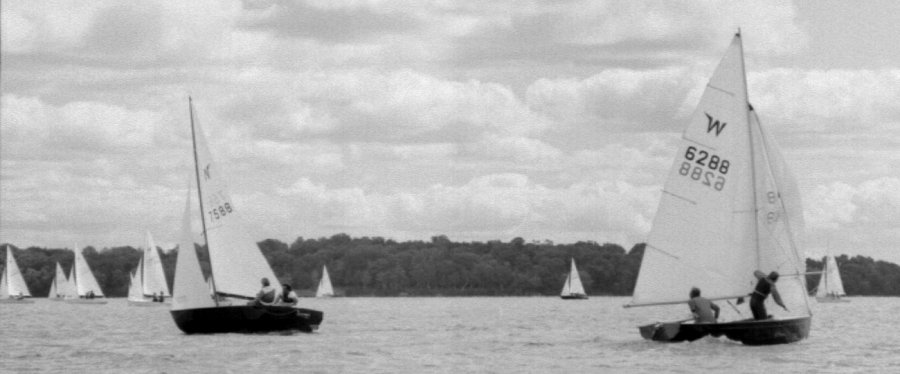 ... as long as they can stay ahead of their main series rivals: Jon Townsend (6288) and Ian Porter (7588)!
..
523: Derwyn Hughes and Bill Boer have Big Bird (4615) in a sparkling 5th place, just ahead of ???.
..
Alf Easy and Sandy Clifford thriving on the lighter stuff as they round off the 2nd beat in 7th place, followed by Richard Stone (4960) and Joe Schnur. Note the lift that is saving Brian Love (white hull, just to the right of centre) a lot of distance and gaining on all those who joined the layline parade too soon!l