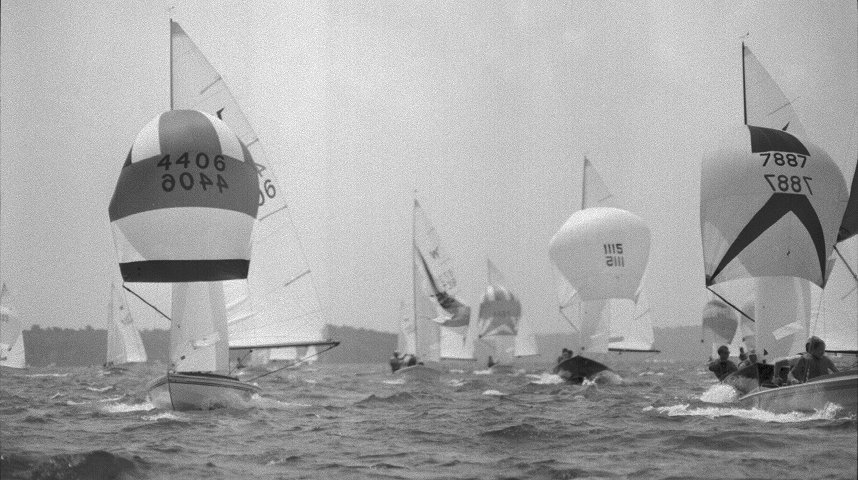 More action near the gybe mark - a photographer's dream!! At the extreme right, Derwyn Hughes is about to gybe with John Hammond (7887) close astern. In the middle we see Bill Fyfe (6739), Bill de Boer (tri-radial) and Joe DeBrincat (1115) while Don Gallagher (4406) will have to give room to anyone who can get there.
..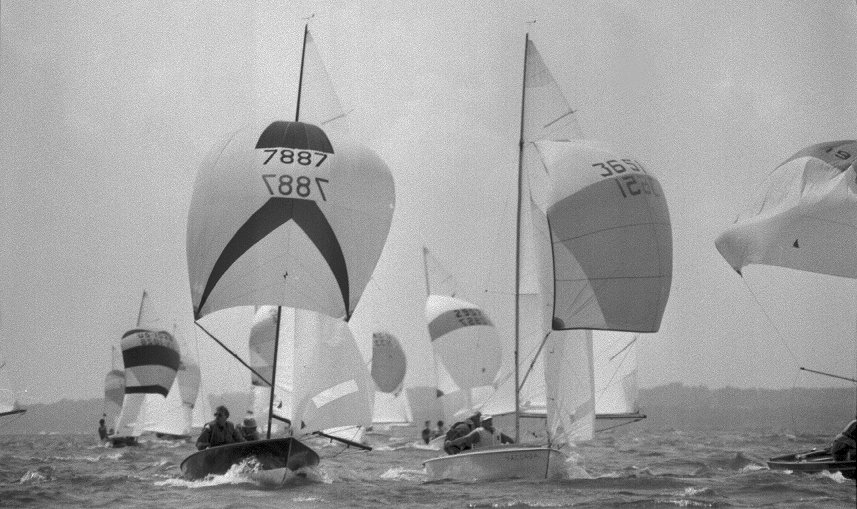 As Geoff Hodshon gybes W198, Graham Dodd and Tom Wharton (3651) have the inside track
on John Hammond with Charles Wilkinson (7887). A father-son duel sees
Joe Schnur (2957) with the edge over his dad, Earl in US1028).
,,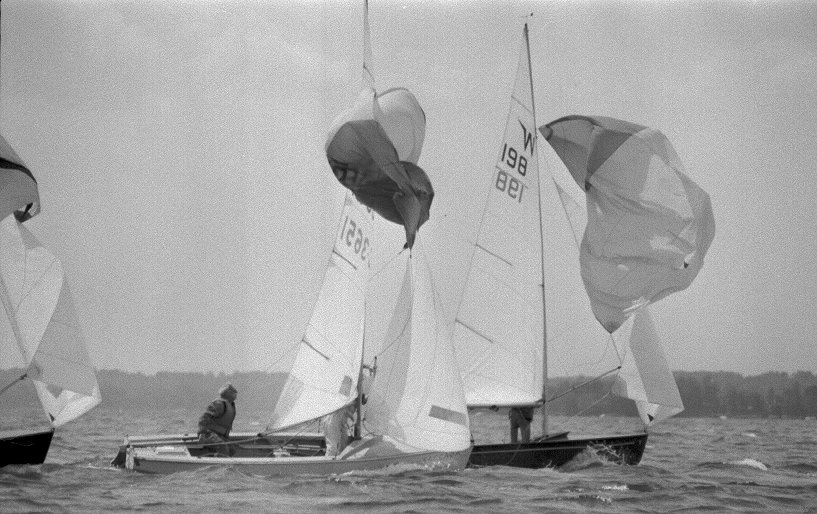 Gybe ho! A race to see who can get the spi drawing first on the new gybe. Of course, Geoff Hodshon (198) can relax since he has Graham Dodd (3651) trapped to leeward but John Hammond (l) could go high if he so desired. 3651's windward spi sheet demonstrates the lack of spi barber haulers which W's in general first saw at the 1989 Worlds, and which keep the spi from flying too high and out of control.
..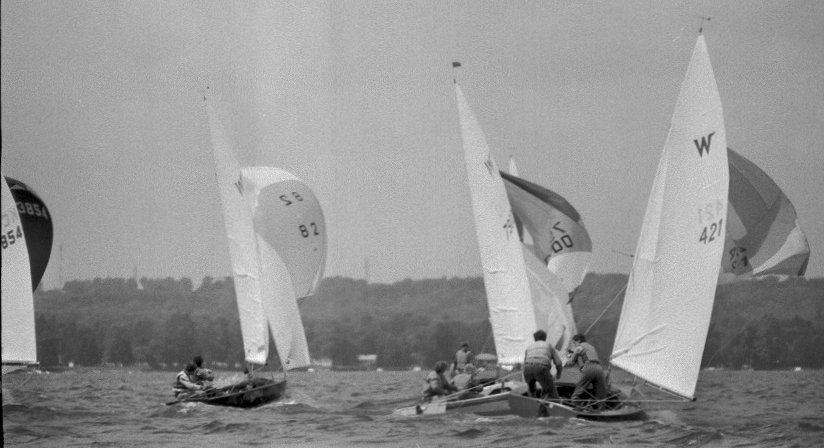 More post-gybe action. Nick White (82) has out-gybed Uncle Al (3854) who had been inside at the mark but Al should be safe from Graeme Hinton (7900) and Mike Codd (421) who are still working on getting their spinnakers re-filled.
..

And off they go, down the second reach. John and Dolores de Boer (6090) have just completed a nice gybe.
..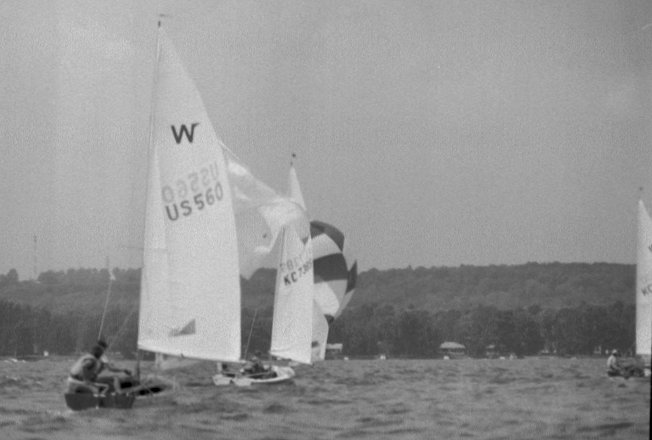 Once Don and Karen Parker (US560) get the spi drawing, they'll set off in pursuit of John Pocock with Ian Brennan (7385). The Parkers, with less crew weight, could well make some inroads here as long as they can hold down Brer Rabbit.
..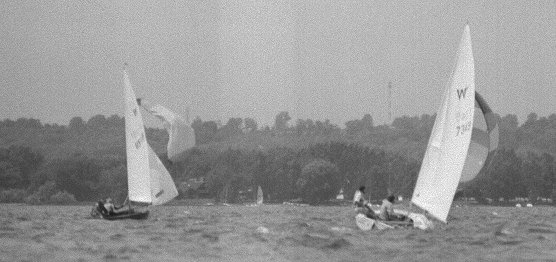 Unidentified W with spi trouble as Tom LeFeuvre and Rob Wylie prepare to cruise through to leeward. Ron might contemplate sitting out to windward to help flatten W7349.
..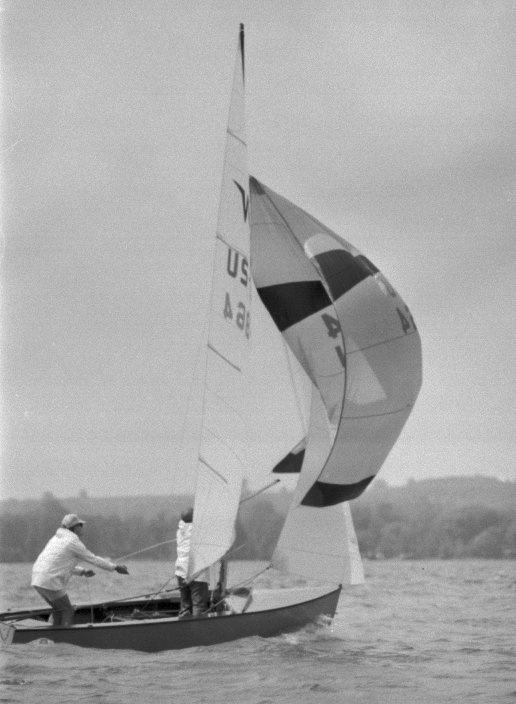 Nick Seraphinoff makes a yeoman effort to keep the spi filled through the gybe while Mary transfers the pole. To do this, Nick has to stand far aft (to steer with his knees) and that makes the stern drag, so speed is of the essence here!
..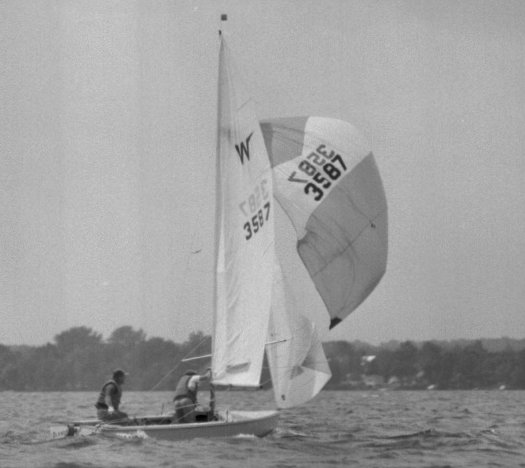 In this photo, Murray Fawcett has just cleated the spi guy in its correct position while Trish Corken slaves away at the pole, so Murray could help the boat speed by sitting forward against the thwart.
..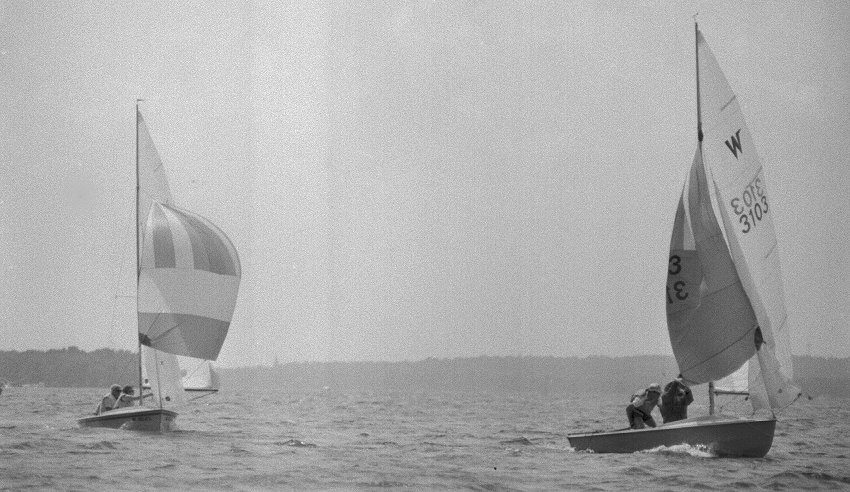 Dave Connor and Tim Hartley prepare for their gybe as Dominick Principe approaches on the left. The latter's spi looks good despite the halyard being a foot or more short of all the way up.
..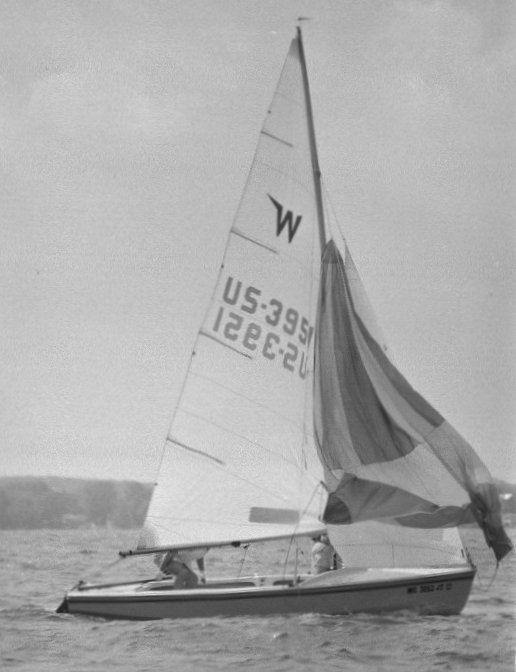 Dominick and Roberta in mid-gybe. Halyard up!!!