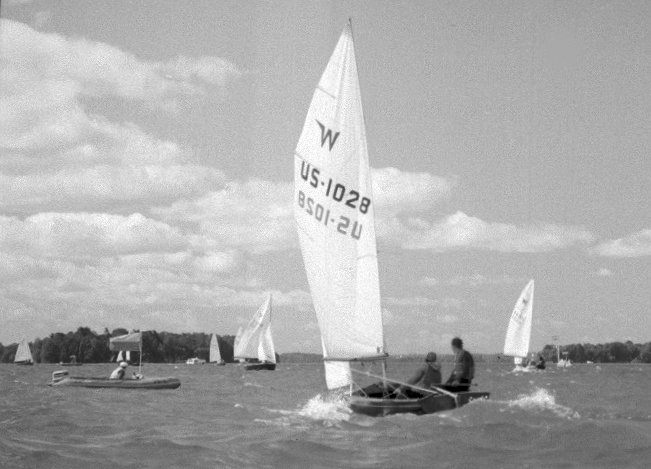 Earl and Pat Schnur (1028) check out the start line in a lovely, fresh Tuesday morning breeze.
With only one race scheduled for this day, the course was triangle-sausage-triangle-windward.
..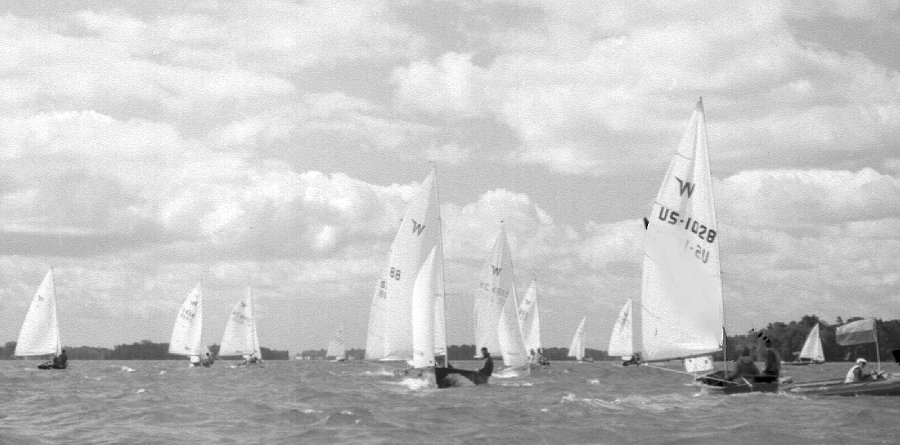 Little did we know that this would be the best the winds would do on this day. I can't find them,
but somewhere off to the right should be W998, Trevor Newley and Giles Bowman, who discovered a veer
on the right-hand side of the first beat which they would exploit fully to win the race easily.
..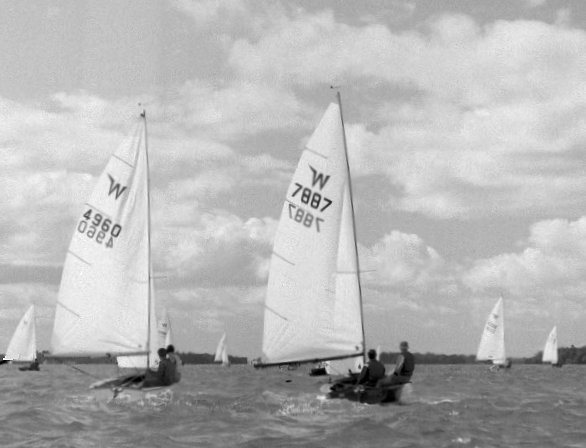 Richard Stone (4960) and John Hammond (7887) enjoy the wind while they may.
..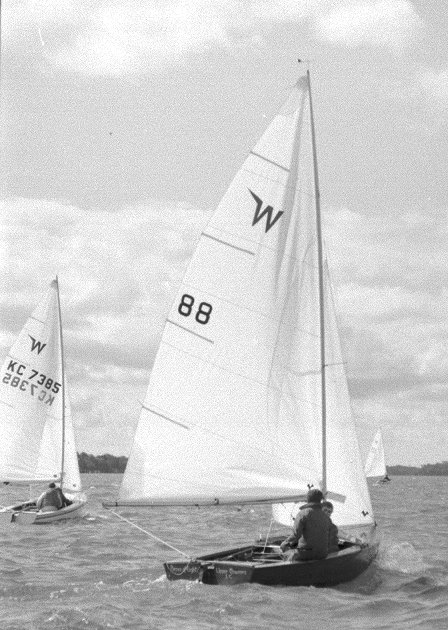 John Pocock (7385) and Martin Collen (88) "sit" as they check out the line.
..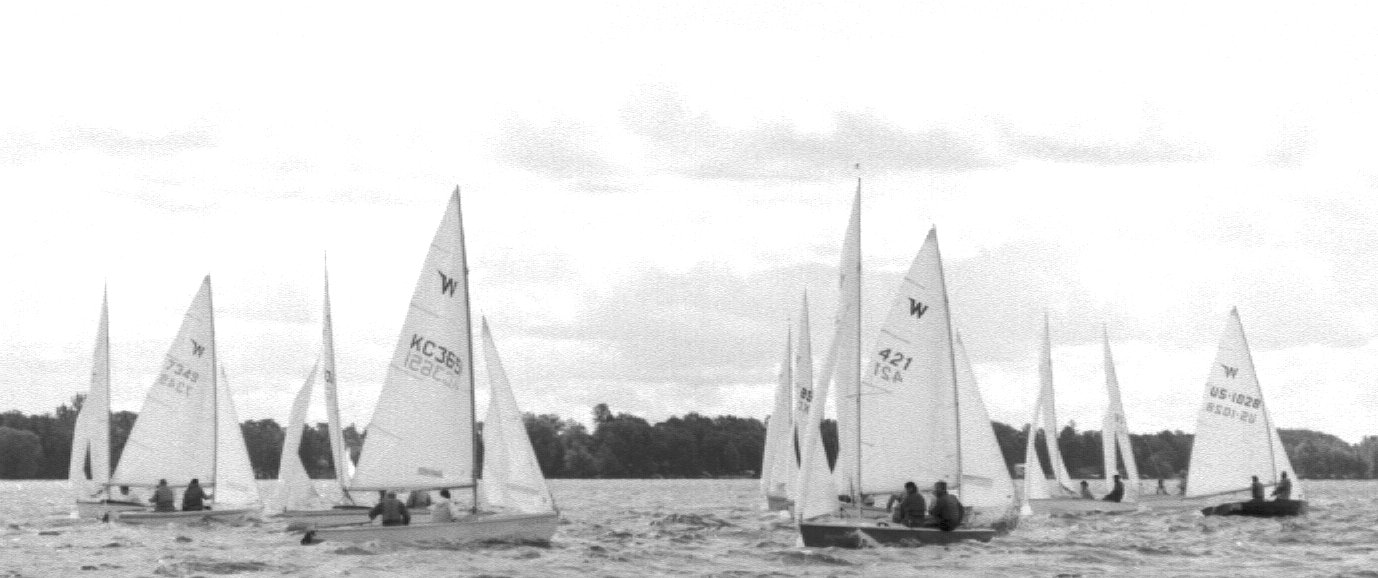 Graham Dodd and Tom Wharton (3651) check out the RC boat end of the line.
..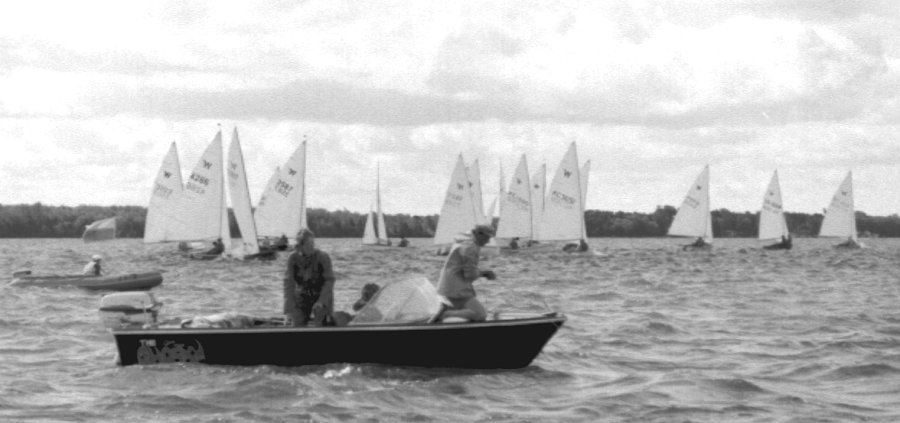 Note how chopped up the water is becoming - and what the boats are doing to the air can only be imagined! This is why the experts advise trimming for speed and power on the line before trying to shift into "point mode".
..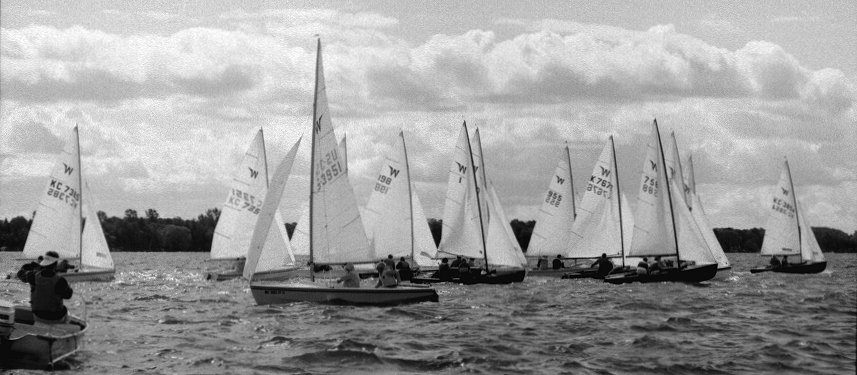 Less than a minute before the start, Dominick Principe (3651) looks like he may be going for a late start at the starboard end which would permit him to tack to the right side early. The serious "sitting" has begun!
..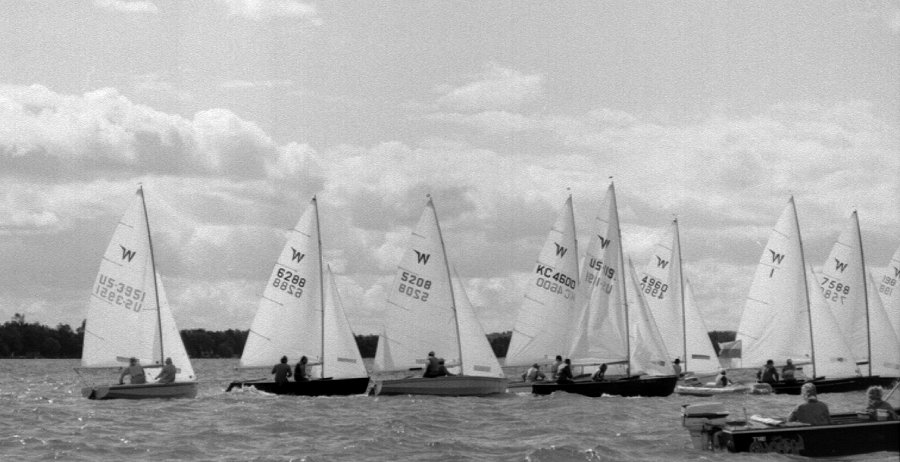 The gun goes. The Perkins have their spectator boat positioned just right to catch all the drama. Dominick (3951) will most definitely get his late start as will Jon Townsend (6288) who is one of three boats left in serious title contention. Hubert Dauch (1191) and Keith Davies (5208) have bad barging prospects in this fleet!!
..

Colin Wilson (1) has hit the line at good speed and...
..

... may well get by Ian Porter (7588) unless the latter can through Julian Redman's (8189) backwind.
I keep looking for Wayfarer 998 who will end up going extreme right but can't find him.
..

Not too much later, the wind is already doing strange things - just look at the variety of sailing angles!