This race was definitely not a high point in Uncle Al's career. I have no idea who the leaders were at the windward mark but I do know that it was once more Julian Redman and Kevan Gibb who got the gun although Robert inexplicably seems to have gotten no shots of the winners' form. Perhaps they were too far ahead...
..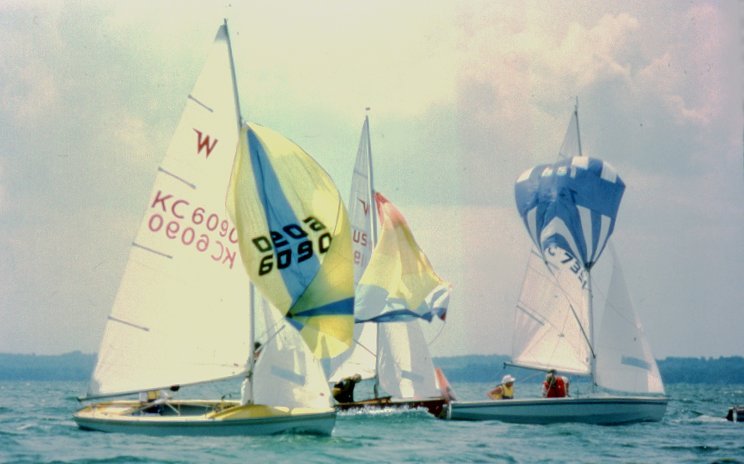 Interesting gybe mark form displayed by Bill deBoer and Roger Shepherd (7351) while Hubert Dauch (with Phyllis) appears intent on building his Captain Crash reputation here? Staying well out of it are John and Dolores deBoer (6090). I do believe that it was on this first reach that Julia and I made the error of totally allowing the spi sheet to flog in an attempt (successful) to stay un-dumped. Alas, when it came time to sheet in again, we discovered that the sheet had tied itself into a round turn and two half hitches around the end of the boom. In the puffy conditions, this took some time to fix!!
..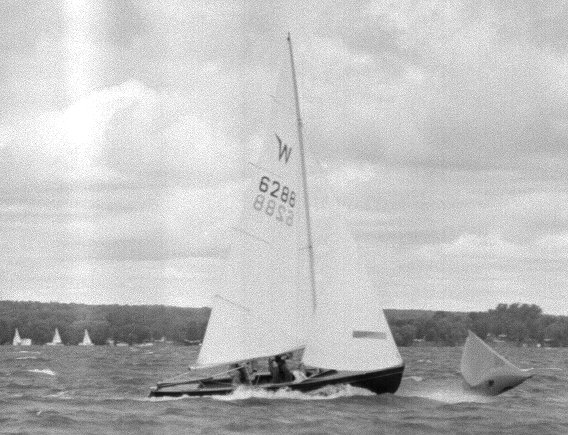 Much later. Second-place finishers, Jon Townsend and Mark Allerston about to round onto the final beat.
..

Finishing the final run, Ian Porter (7588) appears to be a comfortable 3rd ...
..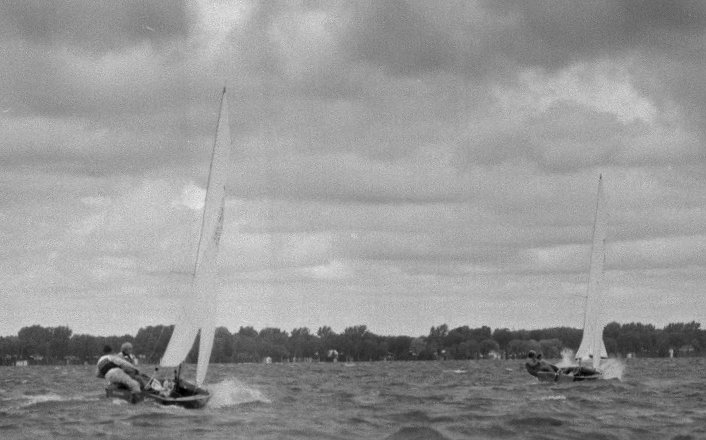 ... as he sets off to try and pass Jon.
..

Judging by the apparent height of the masts, Trevor Newley appears to have Black Adder in 4th while Robin Barker (4286) and Jimmy Clouston (7676) are neck-and-neck for 5th.
..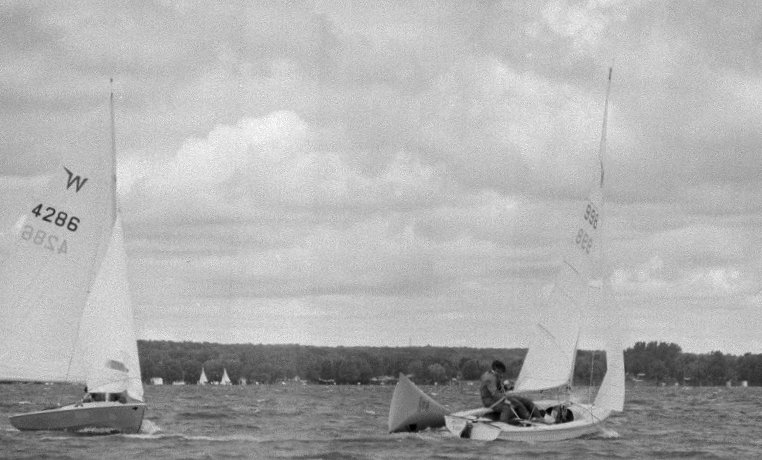 A bit of a slow rounding for Trevor allows ...
..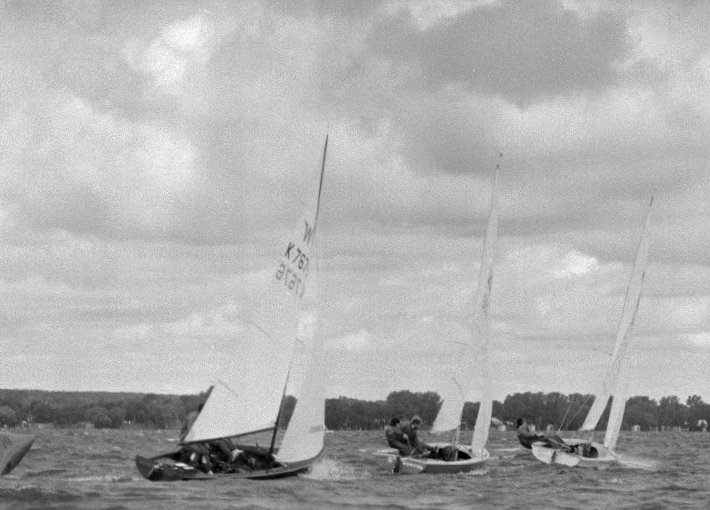 ... Robin and Jimmy to get within striking distance. And strike they did as both Robin and Jimmy
got by Trevor to end up 4-5 while the latter had a still very respectable 6th.
..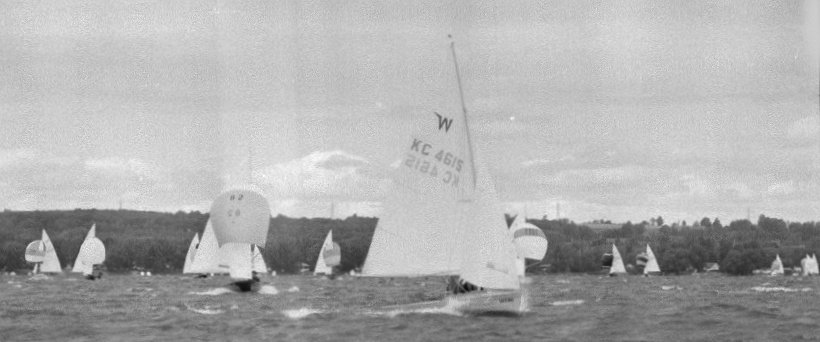 Derwyn Hughes in Big Bird comes screaming in to the leeward mark with Nick White (82) in pursuit.
..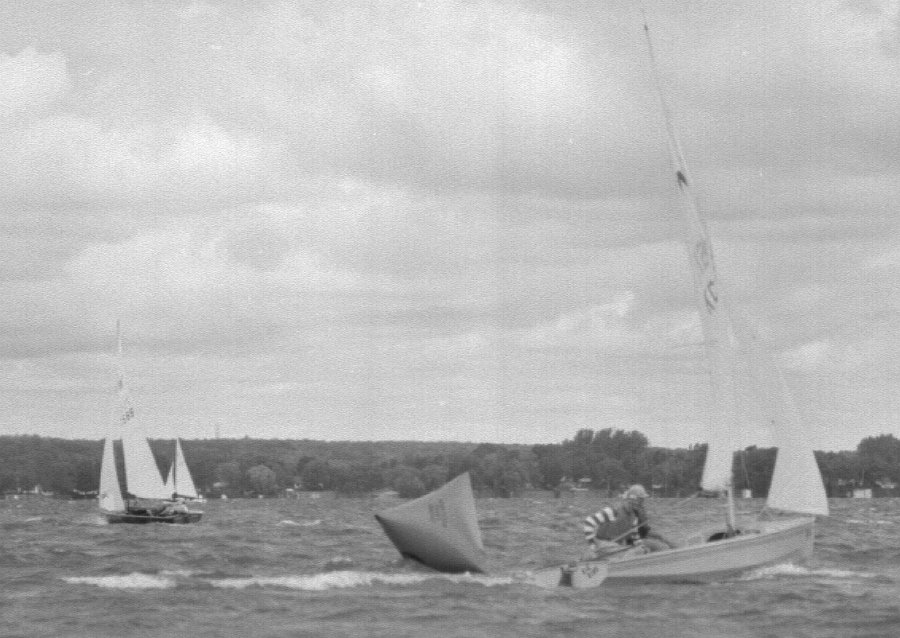 As Robin is off to try the left side, Derwyn Hughes and Bill Boer round the leeward mark for the last time. As usual, they did great in the early going but this time are holding their fine position (7th here, 8th at the finish).
..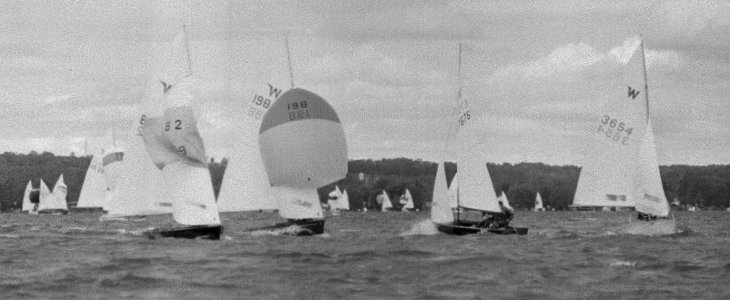 As Jimmy Clouston (7676) heads up the beat on starboard, Brian Love (3654) has taken his chute down early and will pay
for this as Nick White (82), Geoff Hodshon (198) and Richard Stone (not visible) will all round before him (next page).
....
Meanwhile, someone else was taking slides of that same run. (l to r) Brian Love, Uncle Al (W3854), John Pocock (7385), Colin Wilson (1) and Martin Collen (88). Colin would ultimately mount a fine last-leg comeback take 10th ahead of Brian Love. Both Uncle Al and Martin Collen would score their worst finishes of the series in this race - 22nd and 17th respectively.