Perfect trim for Tony and James as they begin beat #3. About to round are Ian Porter (7588) and Trevor Rose with Tim Kirby (955 with borrowed Canadian hull) while Martin Collen is just entering the picture on the far right-hand side.
..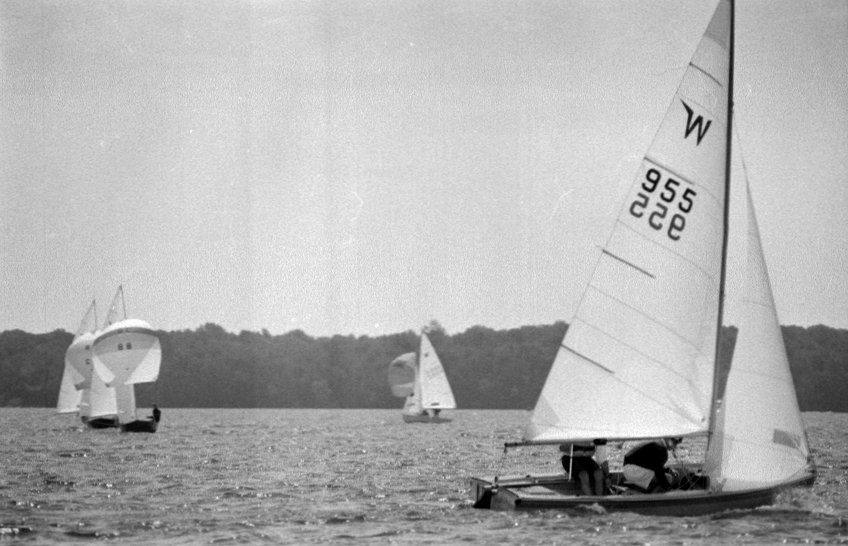 Also very nicely trimmed are Trevor and Tim (955) with just a hint of mainsail backwind. Martin Collen (88) fends off hot pursuit from Nick White (82) while Brian and Cathy Love (3654) prepare to gybe for the leeward mark.
..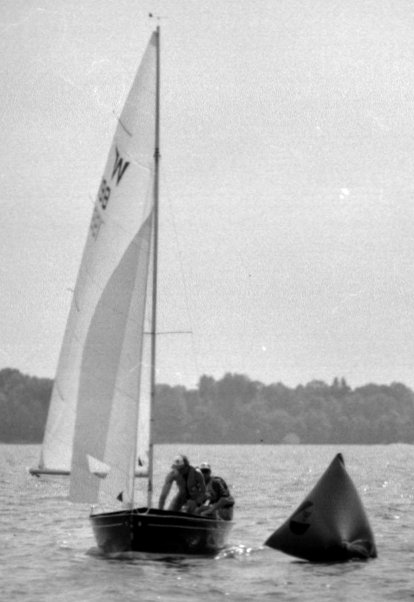 If Geoff Hodshon had a boat just to leeward of him, he would be rounding in exactly the prescribed manner - a seamanlike as opposed to a tactical (wide and close) rounding is all he would be entitled to.
..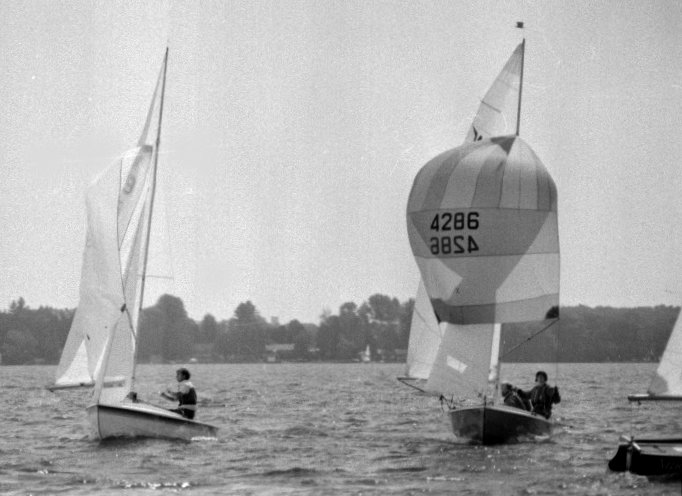 Will Robin and June (4286) get room on Julian Redman and Kevan Gibb whose spinnaker has just been blanketed? It should be an interesting rounding.
..
Uncle Al and Julia (3854) approach the leeward mark and will have the inside track on Martin (88) and Nick (82) should a buoy room situation arise.
..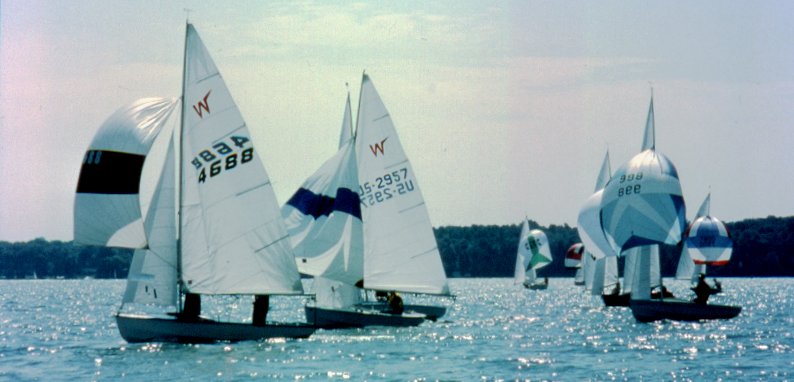 Alf Easy (4688) defends the inside near the mark against Joe and Janis Schnur (2957) but will have to watch out that Trevor Newley (998) does not take his wind. Other identifiable spinnakers are Bill Fyfe (green/white), Don Gallagher (red/black/white) and Graeme Hinton (red/blue/white).
..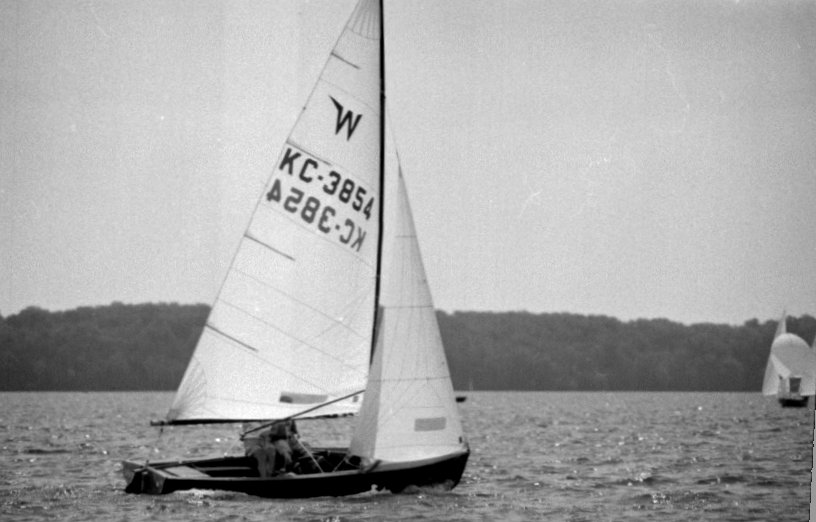 Uncle Al (3854) looks well trimmed with his new tri-radial Richard Storer jib as he and Julia start the beat.
..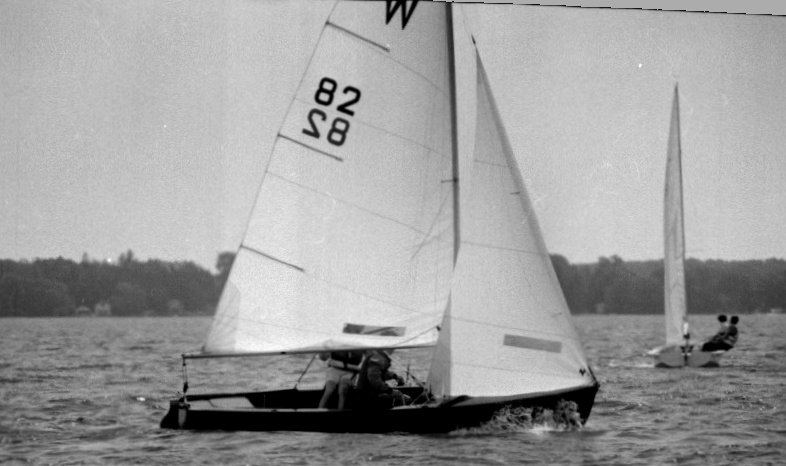 Also a model of good trim, Nick White and Nick Martin (82) prepare to cross astern of Julian Redman who again are sailing their boat dead flat!
..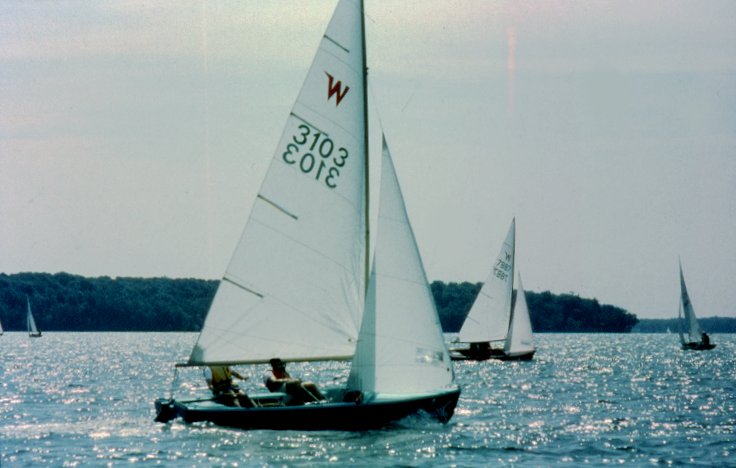 Once he's done with the post-rounding activities, Dave Connor should move forward beside Tim Hartley in 3103) to keep the crew weight centred and together in the boat as is being done aboard 7887 by John Hammond and Charles Wilkinson.
..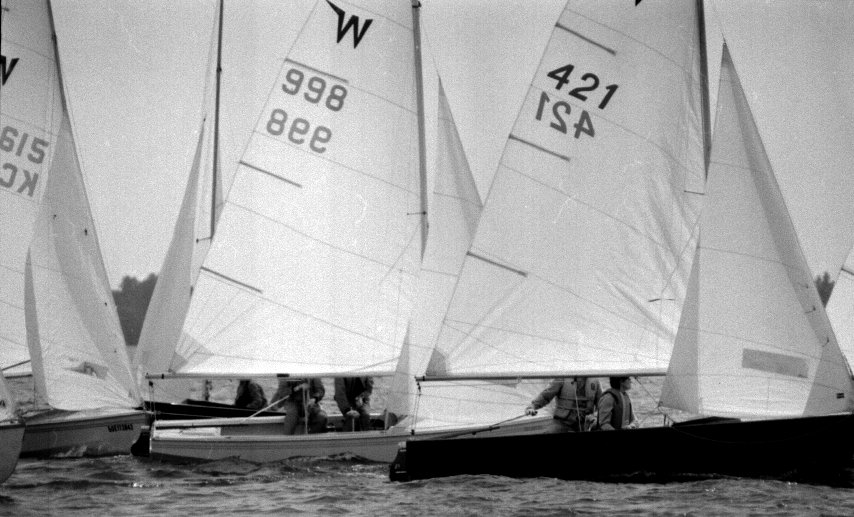 A tough spot for Mike Codd (421) here. Mike is wisely footing off to try to avoid the worst of the wind shadow from the boat to windward and ahead. Trevor (998) meanwhile can only foot off as much as Mike lets him. Derwyn Hughes (4615) has to watch he doesn't hit 998's transom but after that, he can tack for clear air.
..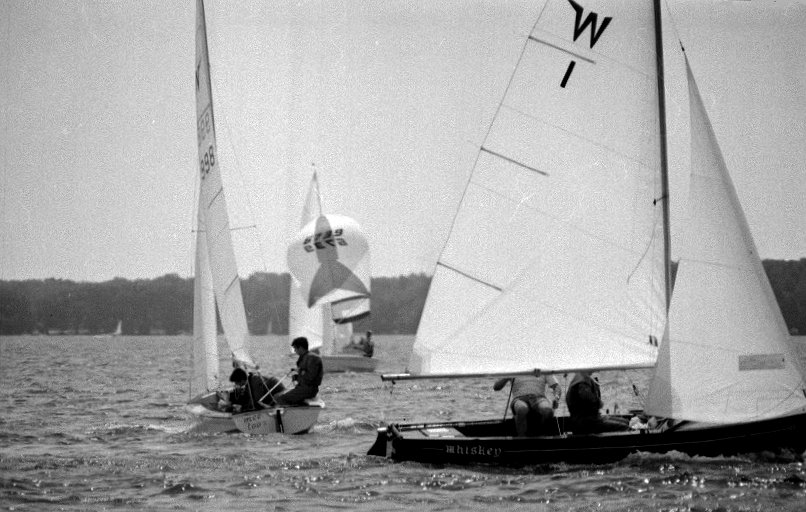 Colin Wilson, using W#1's sails on his other w, #955, rounds into clear air what with Trevor (998) having tacked away. Quick now - who has right of way Trevor or Bill Fyfe (6739)? Trevor is on starboard but under the new rules would be bound by 16.2 not to alter course for whatever reason if that course alteration forces Bill to immediately change course to continue keeping clear.
..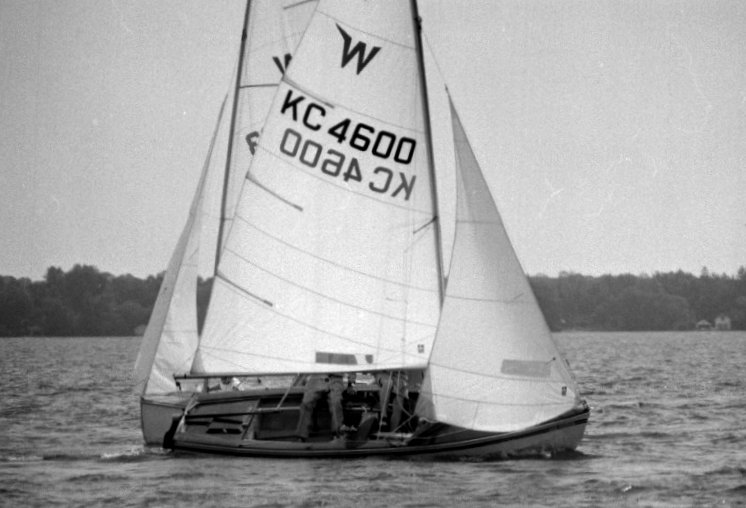 George Blanchard with Roger Redwin need to do two things here: sail flatter (luff up into what appears to be a brief puff?), and get the jib in!! Fred and Chris Webster behind George's mainsail just about to round.